Under an iron sky
If there's one underground idol act that's caught the imagination of western idol fans, it's the 5-strong team of Necronomidol. The occult-themed outfit dazzled audiences in 2018 during their Black Wings Over Albion tour with their combination of dizzying choreography, vocal harmonics and heavy rock foundations. It was also the year that they released the impressive Voidhymn album (and allowed an opportunity for J-Pop Go to have a brief interview with the group).
Necroma sadly saw the departure of both Sari and Yotsuyu Hina in January this year, but the addition of new members Kenbishi Kunogi and Michelle seems to have been a flawless affair, augmented the existing line-up of Kakizaki Risaki, Imaizumi Rei and Tsukishiro Himari. 2019 has also seen the release of a new EP, Scions Of The Blasted Heath, which seems to have given the occult outfit a fresh dynamism to their already extensive catalogue of tunes.
Necronomidol were special guests at Hyper Japan for the long-running Japanese cultural event's summer festival. As a result, the group took time out to sit down with J-Pop Go to answer a few questions on where Necroma see themselves in 2019…
---
Has it been difficult for Necroma to adjust since Sari and Hina graduated?
Himari: The previous members of the group included original members so when they left, we felt something was gone – and from the fans as well. However, now we feel like we're working just fine.
Risaki: The songs we sang with the original members, we still want to sing them now. So with the new members we're trying to make them learn as fast as possible so we can still perform as before.
So, Michelle and Kunogi, how have you found life in Necroma since joining?
Kunogi: A lot of people auditioned to become members of this group and we were chosen, so we had strong feelings to become part of the group really quickly.
Michelle: Before I joined the group I didn't really know much about Necronomidol, so I had a feeling of wanting everyone to like what I do, so that was the strongest feeling for me.
Do you think the underground idol movement has grown more popular in the years since Necronomidol formed?
Himari: Since Necronomidol has been going overseas for several years, over the course of those years we've seen other groups near to us also going overseas. The underground idol scene itself has become more of an international expression of Japanese culture similar to anime.
Risaki: We had our first live in France and there were loads of people who really liked us and became great fans of us – and they came to Japan because they were fans of us, but then we realized that they became fans of other Japanese idols. At first, that was a little bit upsetting, but we then realised it was OK to introduce our fans through us to other Japanese underground idols.
Kunogi: The typical Japanese idol would be all cute and sparkly and girly, pop idol groups and stuff like that, but we feel like we're spreading more likeness for groups such as us with different or unique styles and genres.
So less sparkly?
Everyone: (laughs)
---
What is it like working with Ricky? Is he easy to work with or quite strict?
Himari: He's not strict! (laughs)
Kunogi: He's like a lion! Because he's native in English, so he helps us.
You're not just saying that because he's in the room?
Everyone: (laughs)
Risaki: He's not strict to us directly, where he's picking on particular details, but because he looks at the overall picture and is more indirect in the approach, that can be a bit more strict in the end. Because it puts more pressure on us.
Do you have any funny stories from being on tour?
Kunogi: In a crowded live house, it's always fun watching the people surfing across the audience.
Rei: In our lives, there's lot of phrases that the audience will shout back to us for encouragement. They often make up these phrases in Japan, but also when we go overseas they'll think of things to say to us and it makes us smile.
So, no one has fallen off the stage yet?
Rei: I fell and injured my legs once!
Risaki: So as part of the culture, fans get lifted up by the audience – like, one specific fan – and they can send their love to whoever they want in the group. One time, a fan got lifted up and they sent their love to her – and then the fans took him back and all the way out of the venue! (laughs)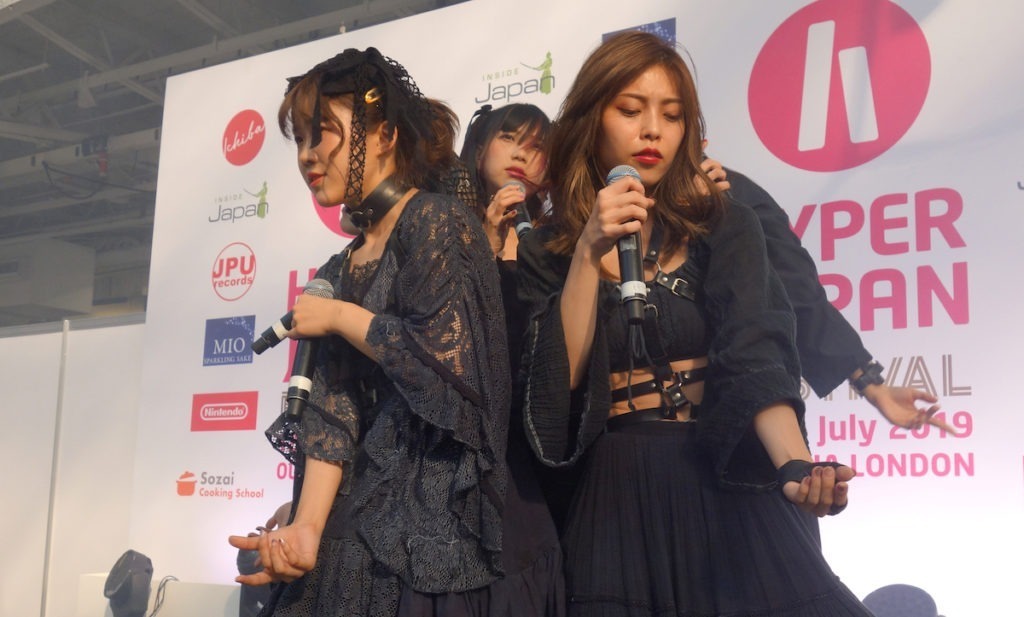 ---
Scions Of The Blasted Heath is out now and is available via Idol Underworld.
Necronomidol are currently in the midst of their European Inquisition Tour. They play Inverness 19th July before moving on to The Netherlands, Germany, Finland and Sweden. Full details via: https://www.facebook.com/pg/necronomidol/events/
J-Pop Go expresses its thanks to Necronomidol, Ricky Wilson, Derek Vasconi and the Orion Live team. Thanks also to the Hyper Japan press team.
http://necronomidol.com/
https://necronomidol.bandcamp.com
https://twitter.com/NECRONOMIDOL