J-Pop Go is a UK-based website celebrating J-Pop with features, reviews, news and interviews. It's also a club night which stages live performances and features DJs playing a wide variety of J-Pop tunes.
As an event, J-Pop Go is the UK's longest running J-Pop club night and originally sprang into life back in 2004 as a response to the lack of J-Pop-themed club nights in London at the time. The event had its first home at Fluid, based in Farringdon, London. J-Pop Go has featured live performances from artists as diverse as Rie Fu, Sonic Dragolgo, Natccu, Fifi Rong, Sputniko!, Sonia Leong and Fume.
The website has also had the privilege of interviewing the likes of Dempagumi.Inc, Moso Calibration, BABYBEARD, NECRONOMIDOL, BABYBEARD, Charisma.com, Tokyo Girls' Style, Jun Okada, BANZAI JAPAN, Nagi Yanagi, Hotei, Hiroyuki Itoh (Crypton Future Media), Yun*chi, Mutant Monster, Kanon Wakeshima, Naomi Suzuki, Reol and Shonen Knife.
Occasionally the site will do something special, such as our K-On! and Shonen Knife events – collections of features and articles discussing particular artists or notable events on the J-Pop scene.
The visual look of J-Pop Go is brightened by our mascot Eva who has been illustrated by the talents of a variety of artists including Masaki Iwata, Ryan Zanfei and Wing.
J-Pop Go has been featured in a variety of press and media features, including the Metro, Japan Update Weekly, Electronic Sound, Anime Limited, Hyper Japan, Manga Entertainment, Japan Matsuri, Neo magazine and Otaku News.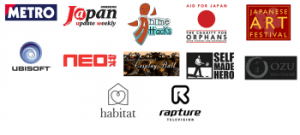 J-Pop Go has also collaborated with other events and organisations such as Hyper Japan, Anime Attacks, the Japanese Art Festival, the charity Aid For Japan and The Grand International Cosplay Ball. J-Pop Go has also provided DJs for other events, including launch parties for the likes of Habitat, Ozu Restaurants and publisher Self Made Hero. It's also acted as a consultancy service by providing information and resources for a variety of companies and media outlets.
J-Pop Go also established Project MARSHMALLOW, which is the creative arm of J-Pop Go and is responsible for developing music acts. Our first experimental offering is MARSHMALLOW LLAMA TIME (inspired by our love of J-Pop, marshmallows, llamas and fluffy things in general) who saw their debut at our July 2012 event in Shoreditch.
---
Contributors
PAUL BROWNE
J-Pop Go founder Paul Browne spent his formative years indulging in fanzine culture before branching out to graphic and web design in later years via Arc23.
With a keen interest in Japanese pop culture, Paul has also written about anime and Japan for a host of outlets, including Electronic Sound, Anime Limited and Otaku News.
He has been involved in both writing and design in the music world for over 20 years, which has seen him working with such diverse artists as pioneering synth-pop outfit Orchestral Manoeuvres In The Dark, Julian Cope and Virginia Astley. Paul also founded The Electricity Club, a website which celebrates electronic music both classic and contemporary.
KAREN KEMP
A die-hard idol pop fan, Karen's deep knowledge of all things idol has made her an essential part of the J-Pop Go team.
Karen also possesses a detailed grasp of the Japanese language, making her translation skills a valued asset during interviews and cultural events. A dedicated Dempagumi.inc supporter, Karen looks forward to the day when Dempa return to the UK to perform.
---
MARY GROUTAGE
Mary is better known in her guise as DJ Tasuki who contributes musical duties to the anime convention circuit including Minamicon, Ayacon and Amecon. She also hosts talks and panels on J-Pop.
Mary's first J-Pop CD was Distance by Hikaru Utada, she's a big fan of Morning Musume and her karaoke song of choice is Lion from Macross Frontier. She also maintains a J-Pop-themed blog here: http://tasukidaisuki.co.uk/
---