Sweet Candy Power
During the barren years, having a Japanese band performing in the UK seemed like a remote prospect at the best of times. Luckily, sturdy rock outfit Shonen Knife were one of a the small number of acts gracing our shores in those early days.
The Japanese rock outfit have become almost an annual tradition now in the UK's live calendar. But any thoughts about the trio becoming stale are easily blown away every time they hit the stage. Shonen Knife still retain a charm and an energy that bands half their age would kill for.
Meanwhile, Shonen Knife's lineup has gone through a few changes over the years but still retains that 3-piece dynamic. The current tour features founder-members Naoko and Atsuko Yamano alongside Risa Kawano on drumming duties. Their distinctive Mondrian-style outfits (designed by Atsuko) present a striking visual aspect to their stage performance, but as ever it's their musical talents that stand front and centre.
Among their opening shots is a brisk 'Jump into the New World' (from their 2016 outing Adventure) and a dip into their early catalogue with a raw 'Lazybone'. But it's when the tight guitar tones of 'Twist Barbie' erupt, the crowd really starts jumping.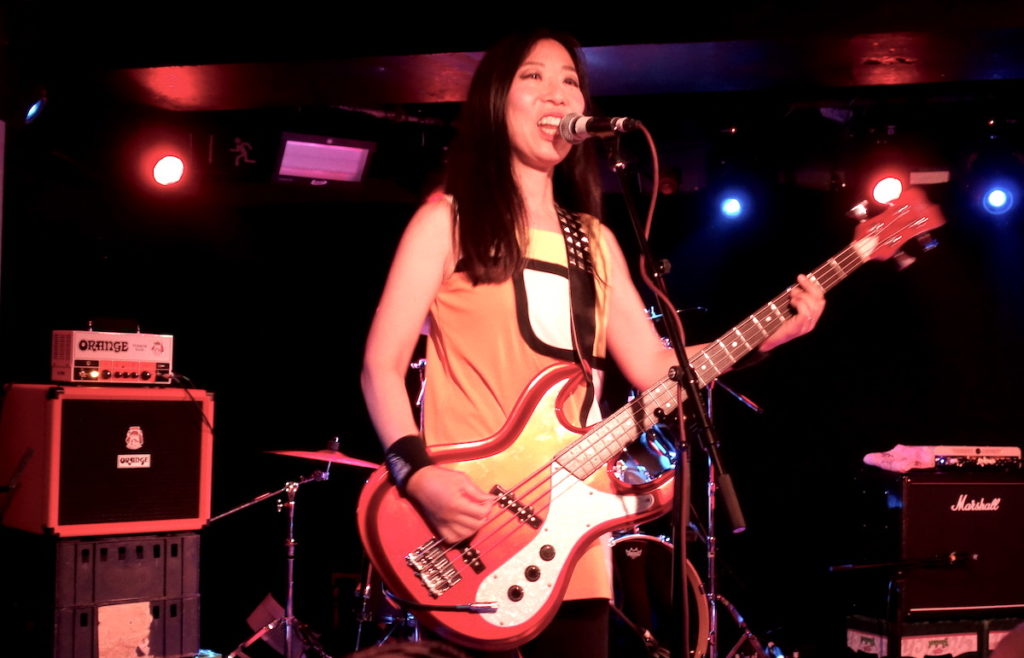 With the audience on-side, Naoko then stops for a brief MC segment in which she explains that the next three songs will be culled from latest album Sweet Candy Power (see J-Pop Go review previously). That kicks off with a percussive 'Party' to get people in the mood. Following up, Naoko asks for a little audience participation for the next song.
"We need your cooperation to clap along at the right moments" requests Naoko adding" "You need a very good sense of rhythm!" Then it's straight into the hook-laden 'Dizzy' with its driving rhythms punctuated by the repetition of the song's title.
'Ice Cream Cookie Sandwiches' closes the 3-song segment out, this time with drummer Risa on vocal duties. It's a return to Shonen Knife's favourite themes of love themes about food – and it's clear that Risa is all about ice cream cookie sandwiches!
"We would like to play a song from the 1980s" announces Naoko before launching into the clipped rhythms of 'Public Bath'. Next up is an Atsuko-led number culled from their 1986 opus Pretty Little Baka Guy. The bass lines on 'Ice Cream City' are big and bold and the audience eagerly join in the "Yeah Yeah Yeah!" refrain.
"From songs about food to cute animals" announces Naoko before launching into the beloved 'Capybara' (from the Free Time album). Here, the shuffling rhythms have a shimmering quality for a number that also allows Risa to indulge some fun drumming moments.
At this point, it's time for a little band introduction moment which also allows the Shonen Knife team to indulge their various interests. With Risa, it's the obvious love for ice cream sandwiches, but also a shoutout for the host city tonight: "I like London – Rock City!"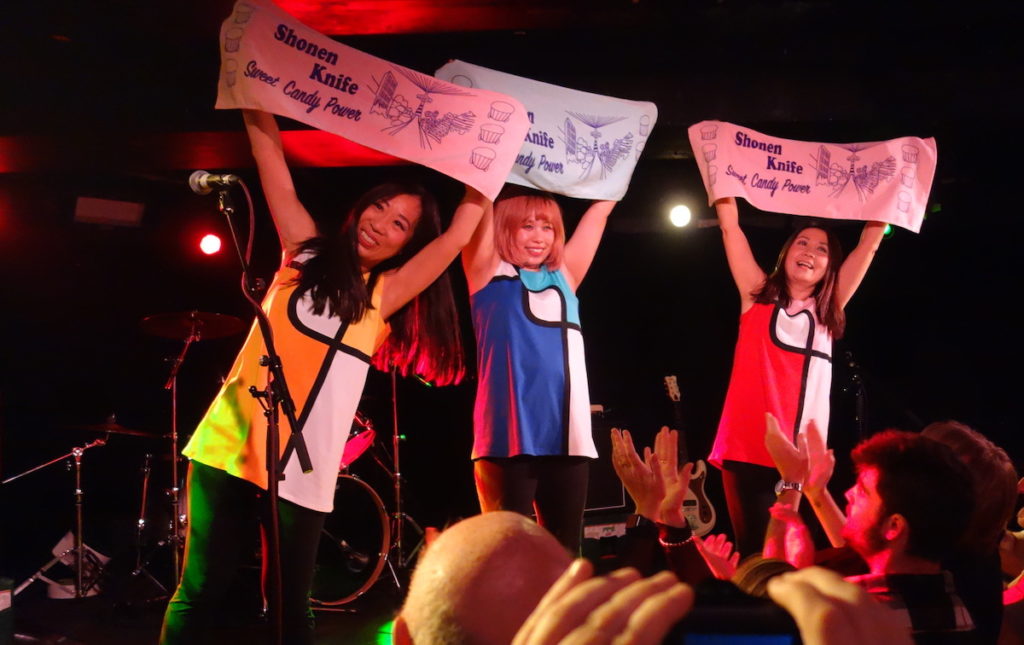 "I like beer. I like wine. I like whiskey" adds Atsuko, before adding that important rider: "I like chocolate too!"
Then the trio dive back into Sweet Candy Power for the next number. "This is about a very healthy food" quips Naoko before kicking off the warm pop of 'California Lemon Tree', which again features Atusko leading the team.
"I remember playing here in Camden in 1992" muses Naoko, looking around the venue, "after we had played on tour with Nirvana in 1991." A reminder, perhaps, just how long Shonen Knife have been going (The band are swiftly approaching their 40th Anniversary).
Next up is a song which Naoko introduces as "Inspired by 70s heavy rock." 'My Independent Country' has a suitably heavy feel to it and is one of Sweet Candy Power's best tunes. That opens the way for a thumping take on the title track from the new album. Naoko explains how the word 'amai' is Japanese for 'sweet', which encourages the audience to sing along at the appropriate moments.
As the set winds down, Shonen Knife know how to pull out all the stops with a glorious 'Banana Chips' and the quirky charms of 'All You Can Eat' ("Our kazoo song!").
Closing out with the dynamic Powerpuff Girls tribute 'Buttercup (I'm A Super Girl)', the audience offers up a huge cheer as Shonen Knife's set comes to a glorious end.
Outside, Naoko and co. kindly take time out to greet fans. It's also a surprise to see how much of a cottage industry the band have going on with their merchandise (which, outside of CDs, includes screen prints and kazoos!).
Shonen Knife are still a powerful live act and with their big anniversary looming, it's going to be intriguing to see what the trio do to celebrate.
---
Sweet Candy Power is out now.
---