Creating a cultural bridge…
A popular figure on London's busy Japanese culture and music scene, Naomui Suzuki is probably best-known for her MC work at the annual Japan Matsuri (see J-Pop Go's previous interview).
Naomi has carefully crafted a career over the years which has seen her occupy the roles of model, presenter, actress, producer, promoter and songwriter. Scoring a No. 12 hit in the UK Club charts, Naomi has also starred alongside Hugh Grant in the film Bridget Jones Diary and also formed the music duo AJ Unity (alongside fellow musician Philipp Moll).
Working alongside talented musicians and producers including Brian Rollins (Kylie Minogue, Tina Turner, Cher), Gota Yashiki (Simply Red) and Andy Wright (David Bowie, Bon Jovi, Sinead O'Connor and Grammy Award-winning producer of Jeff Beck), Naomi has perfected a wide range of vocal styles.
Naomi has produced the Bridge Together Project, part of the Beyond 2020 programme, designed to create a long-lasting Olympic legacy for the Tokyo 2020 Olympic and Paralympic Games. The project aims to introduce the beauty of Japanese culture to a diverse global audience and encourage people from all over the world to visit Japan.
Naomi is also one of the special ambassadors of the host city, Fukuoka, for this year's Rugby World Cup in Japan – a role she took with her to Hyper Japan this summer. As part of her performance, Naomi sang the rousing Rugby World Cup Anthem, 'World in Union'.
Naomi kindly took time out from her busy Hyper Japan schedule to chat to J-Pop Go about her role as a cultural ambassador – as well as the other projects she's working on.
---
You're an essential part of the annual Japan Matsuri event in London. Do you think that event serves an important purpose for UK/Japan relations?
I think it's very important. My aim is always to make a bridge – friendship – between Japan and the UK, because we have a different culture, but I can see English people really enjoying that different culture. You know, the Rugby World Cup, most of the supporters that come from other countries is the British in Japan. So, I think we have a really good relationship between UK and Japan.
You helped to promote your home city of Tagawa back in 2013 (using the mascot Tagatan and the song 'Taga Tango'). How successful was that effort?
Each city has a mascot character for promoting their city. I am also the PR ambassador for my city which is Tagawa and they have a mascot called Tagatan and I wrote the song for the mascot, called 'Taga Tango'. Since then, it's been more than 5 years now, that the promotion music video is still running at the council offices, from morning till the night! (laughs) I was so surprised!
A very successful campaign then?
Yes, very successful and now I'm doing Tokyo 2020 promotion as well, so using my city, things like Sakubei Yamamoto and coal mining – which is the first item registered in the UNESCO Memory Of The World. So, I'm using those pictures to promote my city and my prefecture and Japan. So, this is a good relationship, but still promoting the city because of the success of 'Taga Tango' .
What's happened with AJ Unity since the release of the 2010 album Sweet Roses?
Still going, but my music partner [Philipp Moll] is living is Switzerland now, so it's difficult to get together.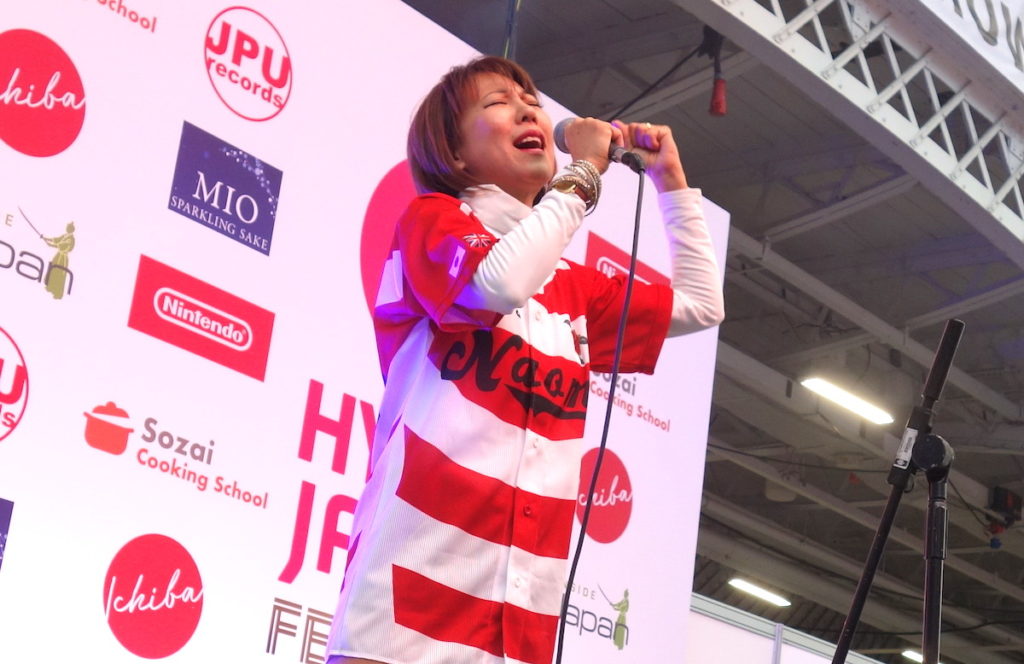 You had some harsh words to say about selling music online (particularly through iTunes) when we last spoke back in 2013. What are your thoughts on that topic today?
I think I'm quite conservative. I'm not quite happy about this because the artist wants to make new songs, but we need a budget, we need money. But where does it come from if a download is 50p or something? If I'm really huge, like Lady Gaga or Madonna, so many people download it, I could have money to create other songs. But if it's a small artist, then it's really painful. One month maybe £10, maybe £20. How can I make the next song? I don't know how people can survive to create new songs
Sometimes production is really cheap, because they don't have money for good production. So, only if you are artist who is on the top can have a lot of money to create new songs or new tracks. But small artists, it's really difficult to have the money to do another song. I think this is a big problem.
Perhaps this is why, even though physical sales are declining, CD sales have been so consistent in Japan where there's been a reluctance to embrace streaming.
Artists have to be clever, using their personality to do other things, like YouTube or selling merchandise. So, artists who have a more clever mind , they can do business, but artists who only have a music mind, then it's really difficult to earn money.
You also helped with charity efforts in the wake of the devastating 2011 tsunami. Do you think Japan has recovered from that tragedy?
Mmm, getting better I think. But now it's past 8 years. I'm still doing the charity thing, so still singing to support, encourage them. Because, the people can have a house now or can have hospital or school or getting better in their society, but their heart is worried. Because the people who are living in the affected area are thinking "The people who are living in the world are forgetting me…" They are really scared to be forgotten. So, this I think is a really important issue. I want to tell them, "Still, you are remembered."
---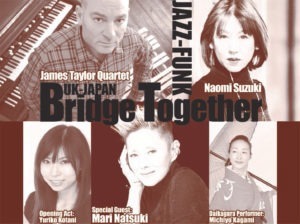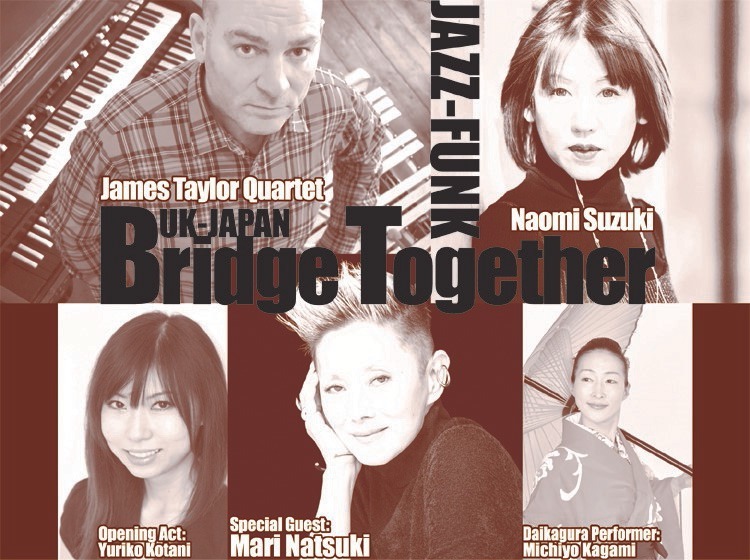 J-Pop Go extends its grateful thanks to Naomi Suzuki and the Hyper Japan team.
Naomi Suzuki is organising the Bridge Together Project this October. This musical gathering presents Japanese pop with a UK jazz-funk twist, featuring performances by the James Taylor Quartet, singer Mari Natsuki and BBC New Comedy Award-winning comedian Yuriko Kotani. There will also be a traditional daikagura routine by Michiyo Kagami. This event takes place on 1st October 2019 at Cadogan Hall, London. More details: https://cadoganhall.com/whats-on/james-taylor-quartet-naomi-suzuki/
YouTube: https://www.youtube.com/channel/UCS8V4BXOMO9Sjeh9X84G6WA
Instagram: https://www.instagram.com/suzuki.naomi/
Facebook: https://www.facebook.com/naomi.suzuki.9659