Kanon Wakeshima's debut UK performance at Hyper Japan earlier this year had been very well received by her fans. To expect a follow up in the same year was completely unexpected – but very welcome indeed.
Outside of her solo work, Kanon Wakeshima had teamed up with An Café's bass player Kanon to form kanon x kanon. As she had mentioned in her interview with J-Pop Go previously, the team-up seemed like an obvious idea: "We're with the same company, with the same management and obviously we have the same names – but the music that we're doing is completely different. So we thought if we do something together then maybe something interesting will come out of this collaboration."
London was the final stop on the recent kanon x kanon tour which had seen the duo performing in Russia, Finland, Hungary, Germany and France. Following Kanon Wakeshima's UK debut it was clear that there was a huge demand for her live shows, so it was something of a disappointment that the turnout at the 02 Academy in London was so small. But with their European record label's website down for the entire length of the tour and issues with the distribution of the VIP tickets, the tour had endured a bumpy ride.
But these issues didn't phase the crowd at the London venue who were clearly die-hard fans – many of which had dressed up in their best Gothic Lolita and cosplay outfits for the gig. They were going to have fun – and our visiting Japanese guests had no problem in delivering.
The set dressing was straightforward and simple with a background screen (of which more later), but the addition of a Christmas tree was a nice touch. Kanon Wakeshima started off with a solo set and entered the stage looking stunning in an elaborately flowing white dress. Joining her was her red cello (known as 'Nanachie-san') which she took through its paces as she delivered well-received renditions of 'Still Doll', 'Marmalade Sky' and 'Lolitawork Libretto'.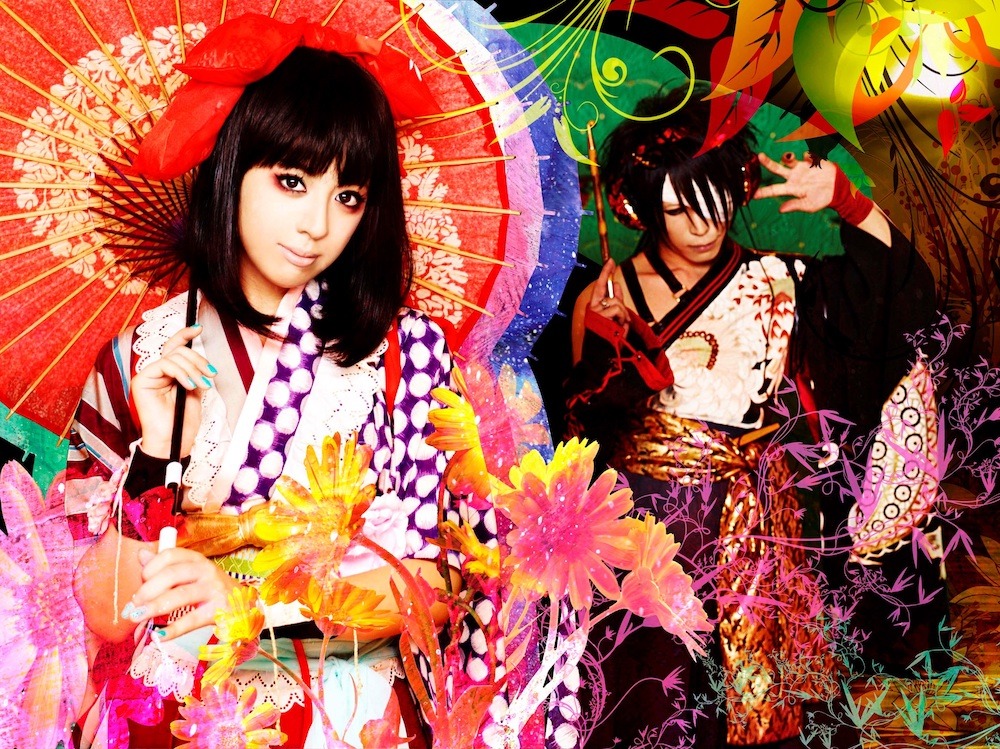 Kanon is very keen on audience participation and insisted the crowd clap along to the more up-tempo numbers – and the Kanon fans weren't going to disappoint her. The solo Kanon segment came to an end with a rousing version of fan favourite 'Princess Charleston' before Kanon departed from the stage as a brief intermission took place.
An Café have carved out a particular niche in the world of J-Pop with dynamic live performances as well as their recorded work, such as their opening theme to the anime Darker Than Black. An Café's appeal has reached far outside of Japan – and in fact the band had performed at this very venue back in 2009 as part of their first overseas tour.
An Café's bassist Kanon had previously been perceived as a very serious character for the band's live shows, so it was all the more surprising to see the man himself take to the stage tonight to introduce a DJ set of his favourite anime themes – including the aforementioned Darker Than Black, but also taking in a wide variety of other anime shows such as Toradora.
Each tune was backed up by a projection of each of the anime opening sequences, with a few remixes by other artists – including a great remix of KOTOKO's 'Re-Sublimity'. Kanon, meanwhile, was clearly enjoying himself and having great fun with lively banter with the audience.
Kanon's DJ set was followed by another break which consisted of an animated projection featuring chibi versions of Kanon and Kanon asking the audience if they were enjoying themselves – and leading to a completely bonkers sequence in which "Mr Alien" took the crowd through their paces to teach them about otagei dancing.
Then it was time for the return of both Kanons to the stage to run through their Kanon x Kanon set, including performances of 'Calendula Requiem' and a particularly enthusiastic performance of 'The Dollhouse!' which went down very well with the crowd. An inspired cover version of Hatsune Miku's 'Miku Miku ni Shite Ageru' was also a highlight. Kanon An Café was also only too happy to lead the crowd through their otagei paces with the help of a pair of handy glowsticks!
The Kanons were clearly enjoying themselves on stage – and that sense of fun was reflected by the audience. The audience were obviously loving every moment and were disappointed that, sadly, the concert had to finally come to an end.
---
Thanks to Kat Kourbetti