Bridging the UK and Japan
Naomi Suzuki is no stranger to the flourishing Japanese cultural community in the UK. Having been at the forefront of London's annual Japan Matsuri for many years, her many talents also include her songwriting and performance skills.
London also occasionally pays host to music events that are curated by Naomi to present Japanese music to UK audiences. As a result, a special event was staged at the prestigious Cadogan Hall to showcase a wealth of talents, which in this instance also included superstar actress and singer Mari Natsuki.
This music event tied into the Bridge Together Project, part of the Beyond 2020 programme, designed to create a long-lasting Olympic legacy for the Tokyo 2020 Olympic and Paralympic Games. The project aims to introduce the beauty of Japanese culture to a diverse global audience and encourage people from all over the world to visit Japan.
Although the weather in London wasn't the best with torrential rain making travel a bit grim on the day of the concert, Cadogan Hall featured a large crowd all keen to see what treats the evening's entertainment would bring. The venue itself is an amazing building, which is also the resident home of the Royal Philharmonic Orchestra. Cadogan Hall's excellent acoustics and ornate decorations (particularly the visually impressive stained glass windows) marks it out as one of London's finest music venues. As a result, it also stages regular chamber music concerts and is one of the two main London venues of the Orpheus Sinfonia.
For the opening act of the evening, award-wining comedian Yuriko Kotani presented a routine that explored the funny quirks of English life and language. Viewing the UK from a distinctly Japanese perspective allowed Yuriko to disassemble the often confusing aspects of English culture, as well as turning that humour on Japanese culture too – a point she makes when observing the number of Japanese people in tonight's audience ("Japan's population is declining recently – probably because we all left!").
At the same time, her routines touch on the odd interactions she gets as a Japanese comedian in the UK. Recalling a previous conversation post-gig, Yuriko recalled the words one man said to her about her career choice: "I don't recommend you do standup. Have you considered dancing or joining a weird Japanese band? Anything that doesn't involve you speaking…"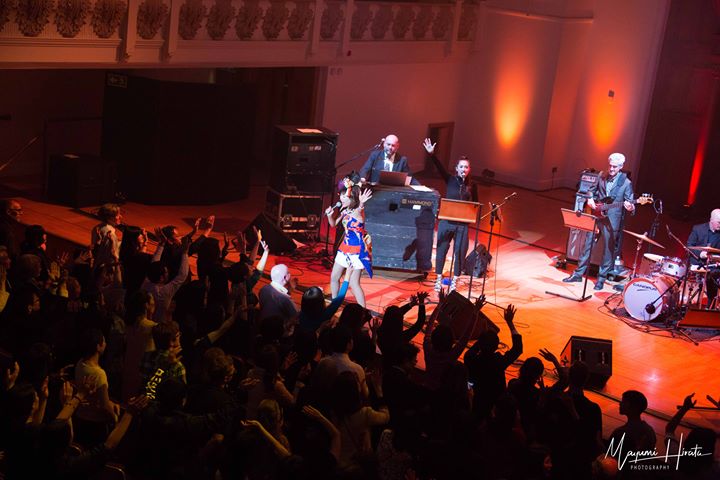 "I got a Facebook request the next day and concluded that he must be a fake English person, so I reported him – to UKIP."
There's a matter-of-factness to Yuriko's delivery of these stories that enhances the humour. There's a lengthy story about her views on the rush hour in London, particularly in comparison to the way rush hour is conducted in Japan. But also wry observations on the British obsession with rain – which seems fitting today with the wet weather drizzling down outside.
With Yuriko's set wrapping up the start of the evening, it's time for the James Taylor Quartet to take to the stage to begin the evening's music proceedings. But while the band (here in an extended format of 7 musicians) run through their funky tunes, the audience is also entertained by the talents of Michiyo Kagami.
As a practitioner of the traditional Japanese dance known as daikagura (itself an offshoot of a Shinto theatrical performance art), Michiyo delivers an eye-opening routine that involves gravity-defying balancing. Her ability to build an assembly of tassels and poles using just her face as a base is presented with an ease that culminates in Michiyo doing a swift head movement to dislodge a fan directly into her hand.
Receiving a loud round of applause for her efforts, Michiyo exits the stage to make way for Naomi Suzuki's first musical numbers of the evening. Opening up with some witty shoutouts to the audience ("Hello Tokyo Dome!"), Naomi also outlined the goals of the Bridge Together Project. While a lot of cultural aspects of Japan have won favour in the west, including the likes of sushi, anime, manga and idol pop (which Naomi helpfully lists), from her own musical perspective Naomi can present classic Japanese pop songs, particularly those from the 1960s.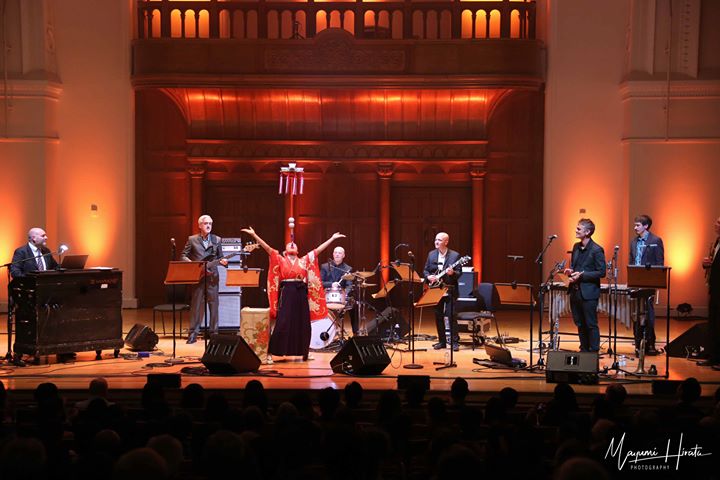 This was a remarkably creative period for Japanese music, particularly as a lot of the compositions took on western influences. This was a period in which outfits such as The Peanuts came into their own – something that Naomi acknowledges as the setlist for tonight includes classic Peanuts' tunes such as 'Koi no Vacance' and 'Tinarella Di Luna' (interestingly, Hello!Project duo W covered a lot of these Peanuts' tracks for their own 2004 debut).
While we acknowledge that contemporary Japanese music is making great strides globally, arguably the first big Japanese hit for western audiences was Kyu Sakamoto's 'Ue o Muite Arukō'. Titled 'Sukiyaki' for western audiences, the song's lilting melodies found surprising chart success in the west (including a No. 1 spot on the US Billboard Hot 100 and a No. 6 position here in the UK).
It's this foundation that Naomi (and later special guest Mari Natsuki) use to power through some funked-up versions of these classic songs. Those familiar with Naomi Suzuki's performances at events such as the Japan Matsuri can testify to her vocal talents, but tonight with the power of a live band behind her, Naomi's voice booms with a particular power that resonates around Cadogan Hall.
Naomi's take on 'Sonna Hiroshi Ni damasarete' (originally by classic Japanese outfit Southern All Stars), for instance, offers a tight, dynamic rendition assisted by brief brass stabs from the band.
After a brief interval at the halfway point, Naomi announces the on-stage arrival of Mari Natsuki. With deeper, more resonant voice, Mari is a veteran at capturing the heart of classic Japanese pop. But her skill set also extends to voiceover duties – as she reminds the audience by doing an effective rendition of Yubaba (from the classic Studio Ghibli anime Spirited Away).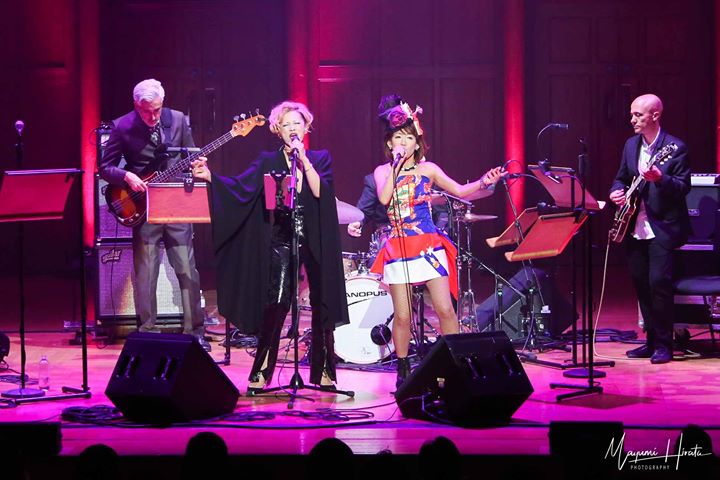 Naomi also finds time to entertain the audience with the story of how she and Mari first met, which apparently was when Naomi was working in a studio in the Oxford countryside – and Mari came striding up with a few bottles of Dom Perignon to encourage everyone's work! During a darker period, when Japan had been struck by the devastating earthquake/tsunami of 2011, Naomi was ill at the time yet keen to somehow help. Once again, Mari didn't hesitate to assist and flew into London to join Naomi for a special concert.
As the pair share vocal duties on stage, it's a perfect opportunity to cover classic Peanuts' songs (particularly as the original outfit was comprised of a duo). Naomi and Mari's singing is also bolstered by more brass backing, including some jazzy flute trills which gives the songs a little variety.
Michiyo returns on stage for more daikagura, this time impressing the audience with juggling skills involving a broad selection of different shaped objects.
The James Taylor Quartet follow this up with a funk version of the theme from classic TV show Starsky & Hutch – a rendition in which the audience is encouraged to clap along. In fact, much of this part of the evening seems dedicated to encouraging audience participation, including getting everyone to stand up and dance.
For the closing moments of the evening, Naomi invites some of the performers back on stage to wave flags while she sings the Rugby World Cup theme (which slots into Naomi's other role for promoting the rugby in Japan).
Despite the grim weather, Cadogan Hall has seen spirits bolstered by an evening of entertainment that has also offered up new aspects of Japanese culture. For an outing via the Bridge Together Project, this can only qualify as a success.
---
Photos by Mayumi Hirata http://mayumihirata.com
https://www.facebook.com/naomi.suzuki.9659
https://www.jamestaylorquartet.co.uk/jtq/