Galaxy Quest…
The appearance of Babymetal's Metal Galaxy album (see J-Pop Go review previously) seemed to spark up some debate in certain quarters ('PA PA YA!!' in particular), largely because although the variety of new influences on that album gave the outfit a fresh perspective, there's a purist element lurking in Babymetal fandom that sees the debut album as a template that cannot be altered. Yet, it wasn't that Metal Galaxy ditched Babymetal's 'kawaii metal' approach, but instead weaved in other ideas into the mix so that the chemistry was richer, broader but still unmistakably Babymetal.
That album had also arrived after a period of turmoil within Babymetal's camp. In 2018, the trio were reduced to two when Yuimetal decided to opt out of the metal idol outfit. Then the tragic passing of Kami band guitarist Mikio Fujioka delivered another blow. Despite all this, and under the continuing guidance of producer Kobametal, Babymetal have risen up to continue as a duo between Moametal and Su-metal (albeit with live shows augmented by a rotating number of third members, known as Avengers, including former Morning Musume member Riho Sayashi).
Babymetal's UK concerts appear to have become a regular thing and judging by the size of the audience, there's been no diminishing of interest in the outfit. That's echoed across the group's global appeal, which in turn has provided inspiration for their music with Metal Galaxy illustrating this absorption through exposure to different cultures and different music. "I see Babymetal as a sort of spaceship" commented Kobametal in an interview with Metal Hammer, "that's travelling through these metal galaxies and exploring different types of sounds."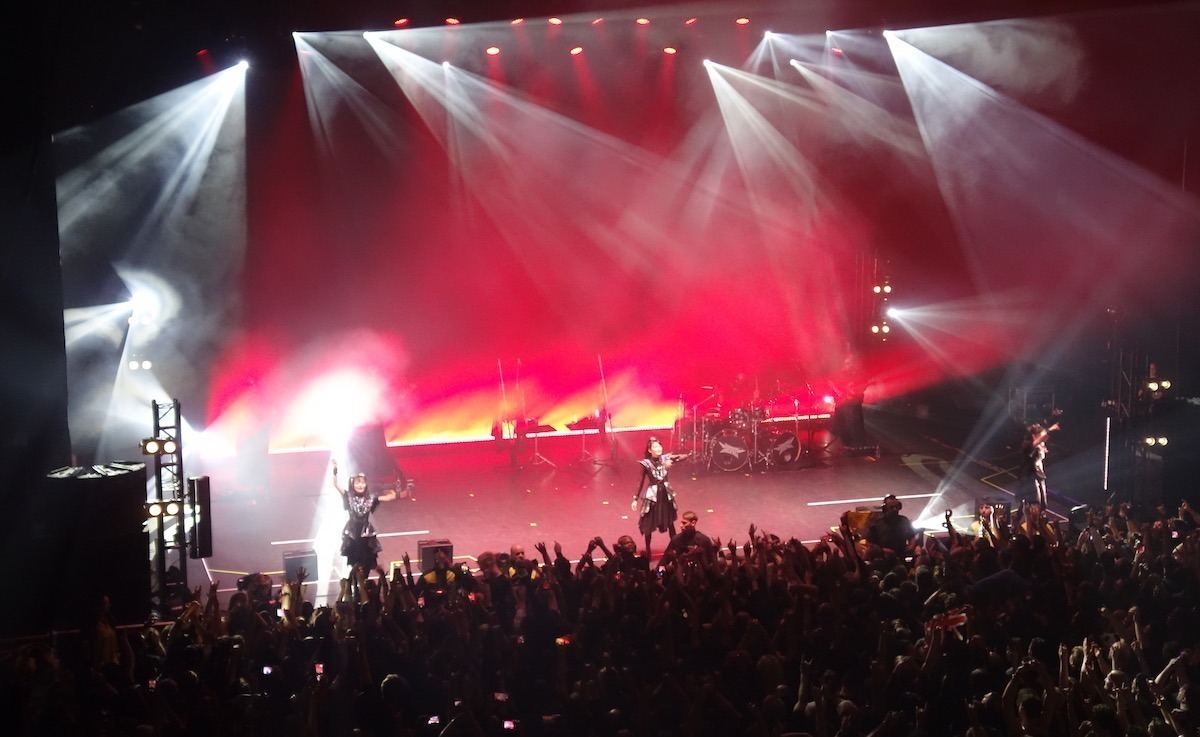 As ever, Babymetal make big use of the enormous projection screen behind them with dizzying abstract effects heralding the trio's stage entrance. There's obviously a big theatrical element to all this visual spectacle, which includes a segment of flag-waving from the trio during the set, yet it never threatens to overshadow Babymetal's stage presence itself.
For the London concert, Babymetal's lineup was also augmented by Momoko Okazaki who, as an Sakura Gakuin alumna, seemed to be a perfect fit. The one noticeable absence on stage was the presence of any risers, which was an interesting departure as usually the girls like to alternate between the stage and the platforms to reach the audience.
As ever, there's very little filler in any Babymetal live set. The kinetic 'DA DA DANCE' sees the stage flooded with blood red visuals followed by the equally powerful (and well received) 'Gimme Chocolate!!', which also sees the stage lit up with fire bursts to accompany the classic tune.
Meanwhile, the Eastern flavours of 'Shanti Shanti Shanti' do a superb job of presenting Babymetal's new sound into a live environment; its euphoric melodies echoing around the venue.
The quirky 'folk metal' licks of 'Oh! MAJINAI' are given a strident marching vibe as a live outing. The energy of Su, Moa and Momoko adds to the almost tactile energy in the venue matched by the widescreen animated elements behind them.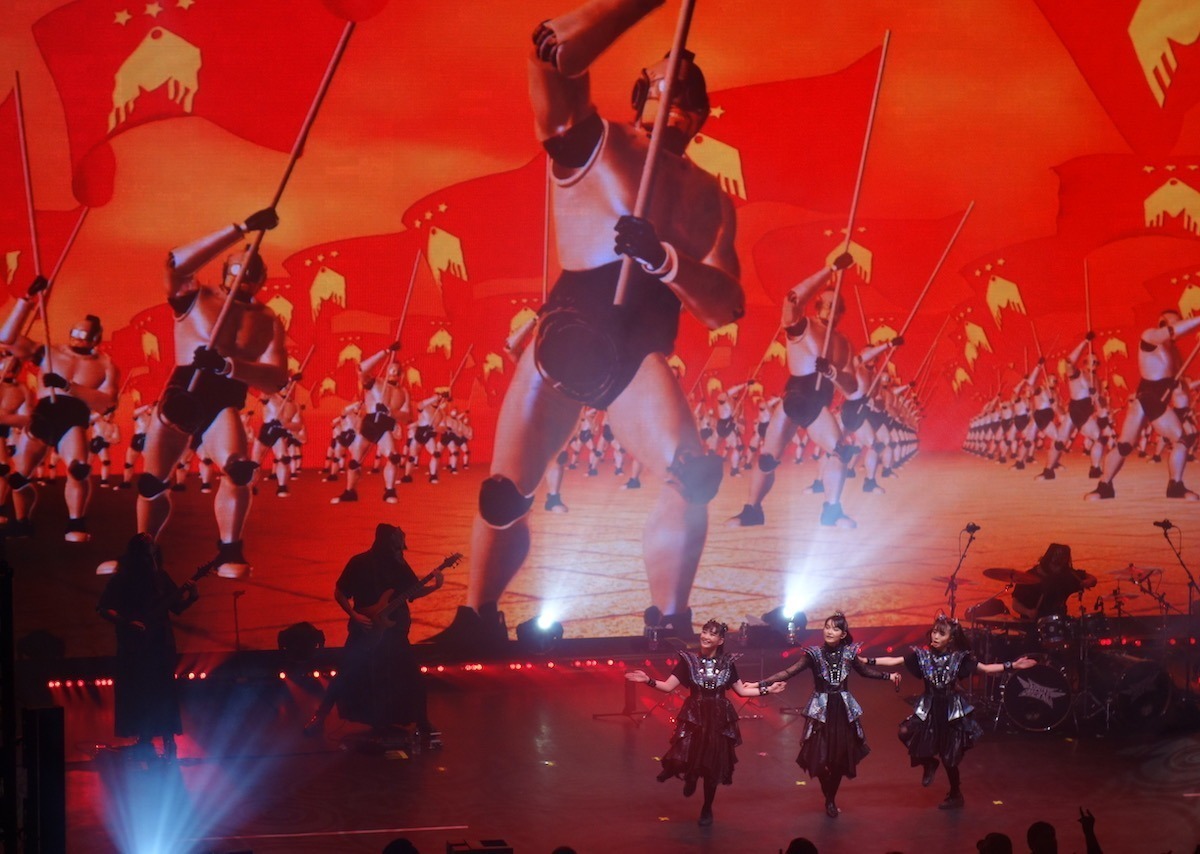 But it's the undeniable power of 'PA PA YA!!' that manages to really kick things up a gear. The energy on stage is also matched by some enthusiastic towel-waving from the crowd.
Although the set is dominated by Metal Galaxy cuts, there's still a few choice selections from the Babymetal back catalogue, including a boisterous 'Megitsune', a heavy duty 'KARATE', which also sees a darkened stage picked out by blue light. 'Headbangeeeeerrrrr!!!!!' also gets a great response from the audience as the trio cut shapes on stage.
The inevitable encore comes in the form of the perennial favourite 'Road of Resistance', a super-charged slice of chugging guitars and a call to the crowd to join in.
Perhaps the only black mark on the entire performance was a spectacularly dumb move by an audience member, who decided to chuck a hoodie at Moa during the 'Megitsune' performance (which was even dumber due to the use of pyrotechnics on stage). The show continued without Moa or the gang breaking their stride, but illustrated perhaps that there's always an idiot in any live performance audience.
Babymetal have come a long way since the days of their stunning 2014 debut album and they've been subject to plenty of unfair criticism, particularly by corners of the music scene who can't get over the merging of metal and idol pop. But the tunes speak for themselves and Babymetal have delivered quality across three excellent albums. Tonight is also another example of why they're one of the most entertaining live outfits to come out of Japan.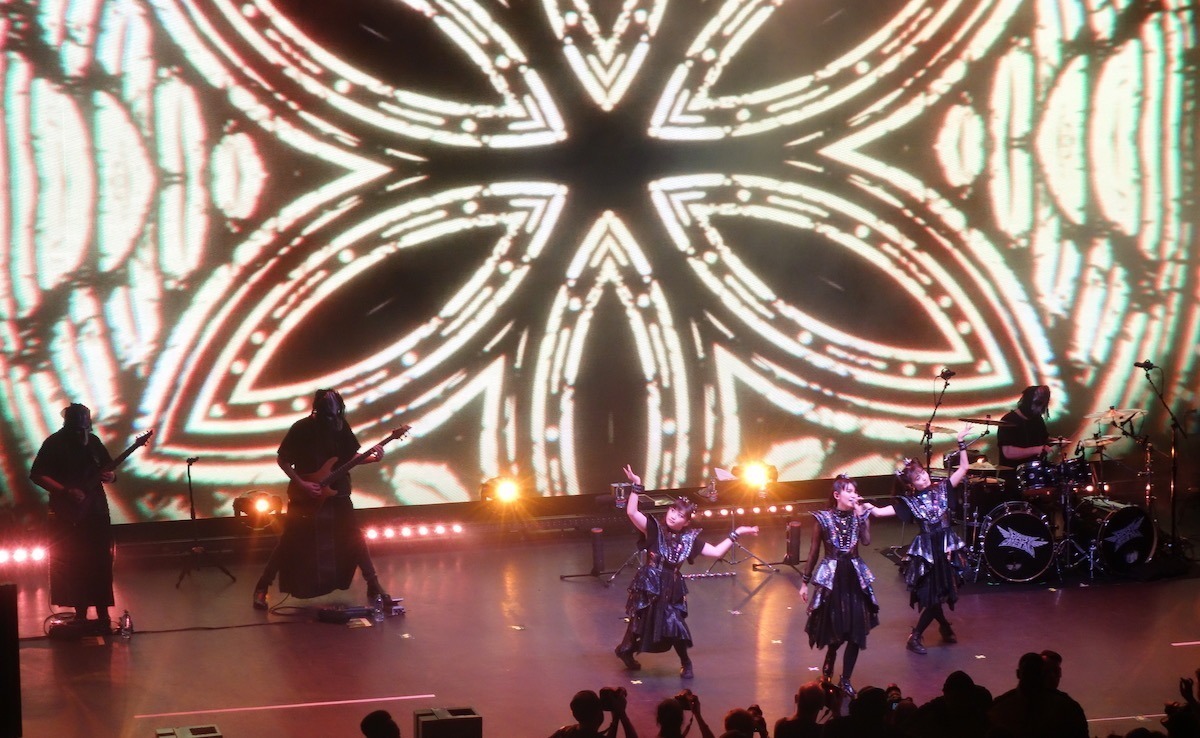 ---
Thanks to Bree van Zyl.