Idol adventures…
The news that the good people at Orion Live were assembling a special multi-idol line-up for a UK tour had caused a buzz of interest from day one. Their Black Wings Over Albion tour in 2018 had seen the return of Necronomidol to these shores, but also served as an introduction to new performers into the bargain.
One of those artists, 2& (Double And), was making a return appearance for this special 2019 showcase which was dubbed the Indie, Idol & Infamous tour. UK audiences were already familiar with many idol acts taking to the stage in the UK (particularly through events such as Hyper Japan), which served the "Indie Idol" title quite well, although where the "Infamous" tag came in was a little more puzzling. But if people were unfamiliar with the artists on the bill beforehand, the addition of 14th Generation Hanako-san Of The Toilet was a sure pointer to how infamous an idol performance could be.
Considering it was still April, the weather was very kind on the Easter weekend with an unseasonal warm, sunny day. Even several hours before the performance, Hanako-san was already wandering among the attendees gathered in the pub section of the venue. Her image is derived from a particularly spooky Japanese urban legend and there was certainly something striking about her blood-spattered school uniform which, apparently, she had been wearing all day (and which had raised a few eyebrows on a shopping trip to Tesco..). Hanako-san spent this early period pranking attendees by putting pepper in their drinks and generally being unpredictable, resulting in the crowd being intrigued, if wary.
The Water Rats is a relatively intimate venue, which also served as the location utilised by Necronomidol for their UK debut back in 2017. But whereas the Black Winds Over Albion tour had been staged in the slightly more spacious Camden Underworld, The Water Rats presented a few issues due to the sheer size of the audience. Delays with the running time added to the slightly chaotic scrum, although everyone at the venue were in good spirits and seemed to embrace that idol quality of being positive and supportive.
Following a zippy VIP session, the standard ticket holders were finally granted access to the venue. Almost immediately, everyone jumped on the merchandise stall to stock up on CDs, T-shirts, stickers and other goodies.
With the running time still playing catch-up with itself, it wasn't until around 8:45pm that Yuffie (aka Garuda) finally took to the stage. Clad in a black, gothic outfit with a distinctive bird-like overtones (a beaked mask and wings), a spiked baseball bat (throwing a nod perhaps to BiS) and she cradling a fetching retro mic, which is lit up in red.
There's a more muscular aspect to Garuda's material than one might expect from an idol. Garuda has worked with Mr. Perkele, (part of the Necronomidol live band) which accounts for the tight arrangements and beefy sounds. It's a solid collaboration that he's also extended to Hanako-san (of which, more later).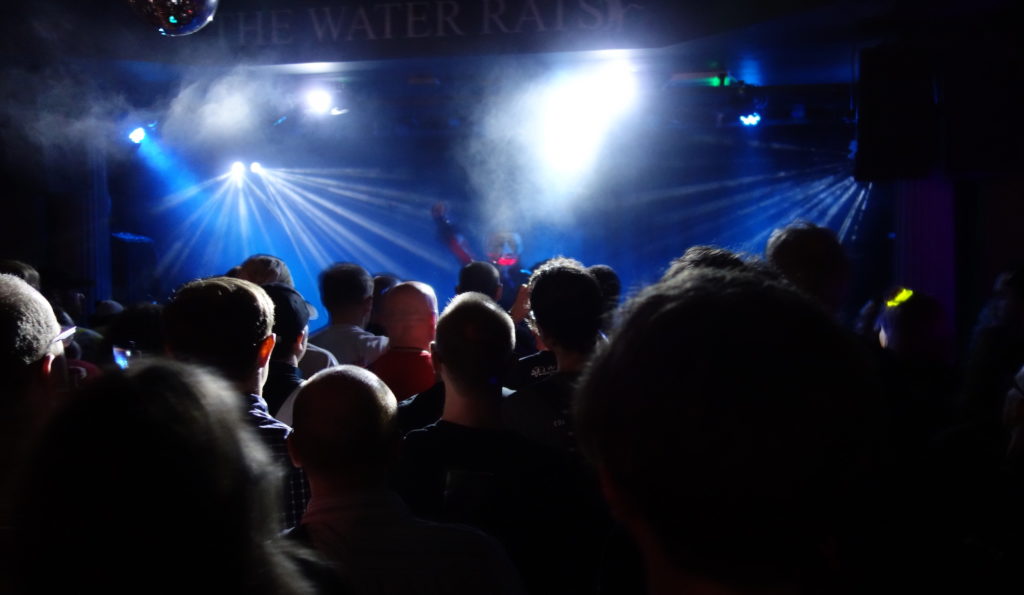 Despite the heavy nature of Garuda's sound, her songs sometimes touch on surprisingly warmer topics, such as the feline themes of 'Oh My Cat'.
She pauses for a brief MC segment ("Hello everyone! It's finally the first day of the tour and my first time to visit England!") before telling the tale of wandering around London expecting to run into everyone's favourite fairy Tinkerbell, but coming away disappointed.
"When I was a child, my favourite films were Disney films" Garuda muses, "So today I become Tink by myself…"
Finishing off with a hearty "Let's have fun tonight!", it's straight back into the music. The songs alternate between chugging guitars and some muscular vocals from Garuda through to encouraging the audience to punch the air shouting "Hai!" in a regimented fashion.
'Wild Cat' moves Garuda's sound down a gear or two with its more shuffle beat approach. By this stage, she's also sans mask, which allows her to be a little more expressive.
As an opener, it's certainly a swift way to get the atmosphere pumping and it's clear that Yuffie has converted a few Garuda fans this evening.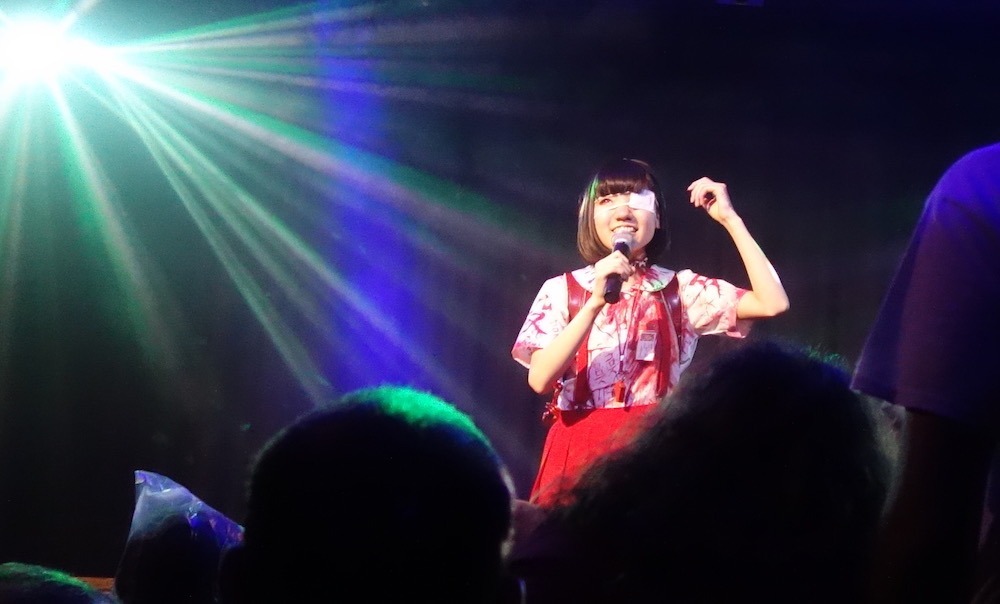 Prior to the arrival of Hanako-san on stage, the central floor is prepped for the uh… more interesting aspects of her performance. As a result, a large plastic sheet is unrolled which means everyone has to step back to allow the floor to be protected. Meanwhile, those stage-front don full-body plastic ponchos.
Hanako-san briskly steps on stage and, via a series of large cards, explains for the uninformed that she cannot speak due to her head being chopped off (of course), but that she can sing. Another card is clear on the rules for the performance – no video, only photographs. In a lot of ways, this is also a warning that things could get very sticky during the show.
Considering the polite intro and Hanako-san's diminutive stature, when her set kicks off it's a shock to hear the blood-curdling death scream that she delivers straight out of the gate.
As to be expected, her songs revolve around themes of death, horror and violence. Considering that prior to her arrival in the UK, Hanako-san was planning to "Murder everyone", this isn't that surprising. At the same time, accurate translations of her lyrics are definitely not for the faint-hearted out there (and certainly can't be reprinted in a family publication like J-Pop Go…).
There's an interlude of sorts in which Hanako-san insists everyone sits down (which is oddly reminiscent of Sari's MC segment at last year's Necroma gig). A brief tribute of sorts to X Japan also appears during her set, before we move onto the main feature.
Bin bags are ominously handed out to the audience (along with toilet rolls) as Hanako-san begins digging out a variety of other items culled from her earlier supermarket visit. This includes some sort of fruit juice which she takes a generous swig off – before ejecting the sticky liquid with some force from her mouth. Like a human fountain, she showers everyone within striking range – even some of us standing halfway back are not immune. Hanako-san has got an almost supernatural range and accuracy with her mouth and there's an instant shock as the sticky liquid coats hair, face, skin and anything else not covered up.
The brief moment that everyone pauses to clean themselves is also the moment that Hanako-san takes to start lobbing Cadbury's Crème Eggs into the audience. Once again, her aim is uncanny and several heads take the full force of the surprisingly hard fondant fancies.
With Hanako-san's set ending, a hasty clean-up operation is undertaken which sees everyone chipping in to help with picking up the debris. Practically half of the audience has red spatters across their shirts with the sticky residue finding a home on heads, arms and legs. For those that braved the Revolutionary Idol Berserker shows a few years ago, this is relatively tame stuff. At the same time, no amount of preparation can really make anyone immune to being on the receiving end of a targeted food fight. But everyone attending tonight is a good sport and takes everything they get like a trooper.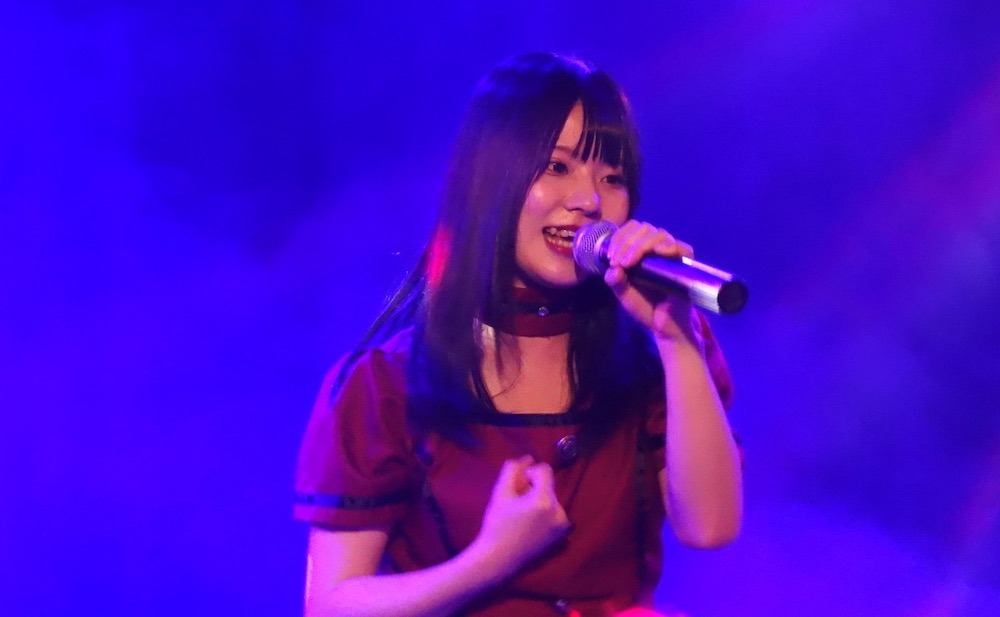 The final performance of the evening sees 2& take to the stage. Saki has come a long way since her days as a duo (and also a brief stint as part of Guso Drop). Her UK debut back in 2018 (performing alongside Necronomidol) managed to win over a lot of new fans on the strength of her songs and her energy on stage.
Part of that energy was delivered with some surprisingly athletic backflips across the stage – a performance element which she replicates tonight in the first segment of her set.
Clad in a striking red outfit, Saki receives a rapturous response from the crowd for her impromptu gymnastics display and her set is peppered with a sea of striking hands from the assembled fans. Every song has a vitality that's matched with Saki's almost limitless energy.
The spacey guitars and percussive rhythms of 'Genkai Asshuku Ningyou' go down well, as does the dynamic 'Mirai Wo'. Saki prowls the stage back and forth, often posing for effect as her confident vocals boom across into the audience.
Saki drops in a few new songs to keep things fresh, before closing out with the powerful 'Machigai Darake', the 2016 tune that marked her first solo release.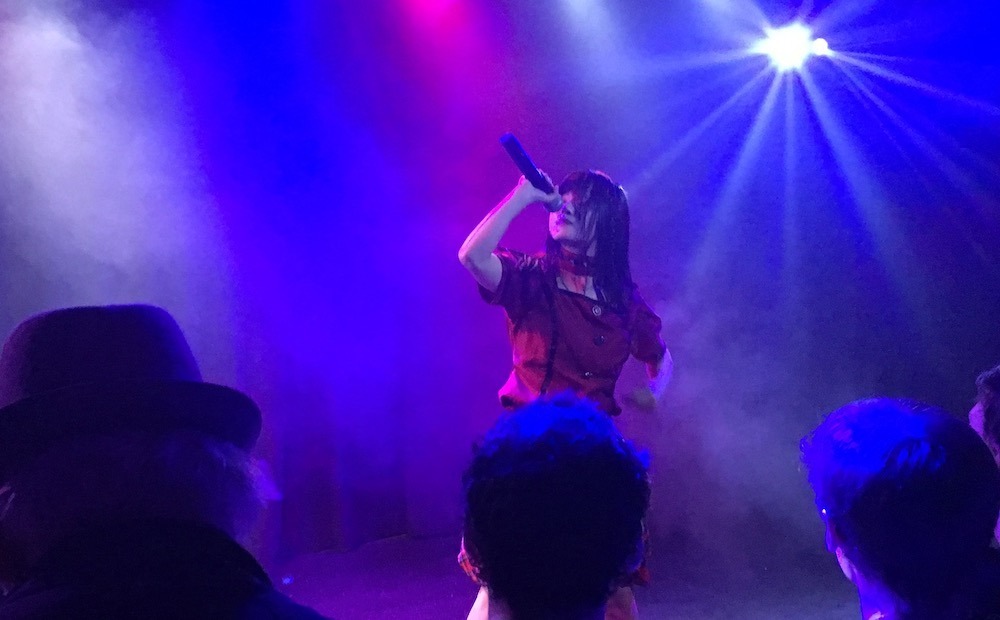 It's often the case that some concerts can feel a little over-hyped and there's many times when gigs don't seem to match up to the expectations of the audiences. The Idol, Indie & Infamous show, however, was a clear demonstration of how you can capture an energy and an atmosphere that resonated with every person inside the venue.
In many ways, these multi-artist line-ups are a gamble on behalf of Orion Live (the team behind these gigs), particularly as they're not confined to just playing London but taking the show to both Manchester and Birmingham too. But there is a clear demand for underground idol shows in the UK, as evidenced by the packed venue at tonight's performance. It also suggests that this could pave the way for bigger idol acts to follow in their wake (it would certainly be surprising if some of the bigger idol outfits were not monitoring how these events are being received in the UK).
But tonight has seen Garuda, Hanako-san and 2& put on an amazing show and left a happy audience with some amazing memories.
---

The final Indie, Idol and Infamous concert is tonight, 23rd April The Sunflower, Birmingham. Tickets: https://www.eventbrite.co.uk/o/orionlive-18222139297
More details via https://www.facebook.com/Indie-Idol-and-Infamous-1956991887930330/
https://twitter.com/GARUDA_info
https://www.youtube.com/channel/UCLjsQKGQgyPb8AuBbEUSy8A
https://twitter.com/14hanakosan
https://www.youtube.com/channel/UCuH0NP00kQcHwON_qek-Ghw
https://ameblo.jp/14hanakosan/
https://twitter.com/DOUBLE_AND
http://double-and.info/