The Japanese Cultural Event returns…
It hasn't taken long for Hyper Japan to establish itself as a fixed point on the UK's Japanese cultural calendar. Its seamless mesh of traditional and modern culture provides plenty of things to see and do over the course of a weekend.
Food is obviously one of the foundation stones of the Hyper Japan event and the popularity of the food court was highlighted by the sheer crowd packing it out at lunchtime (The Chicken Katsu Ramen though was a particular highlight). The Eat-Japan Sushi Awards also returned with an opportunity to taste five unique sushi creations from some of the very best sushi chefs in the country. If the food wasn't enough then the staging of the Sake Awards was a good point to sample a wide range of different types of the traditional Japanese drink.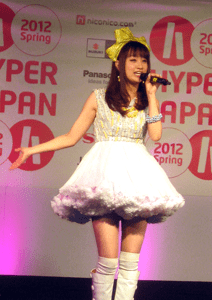 Hyper Japan also makes an effort each year to bring over Japanese music guests for every event (with Kanon Wakeshima doing the honours in 2011). Natsuko Aso was the guest for this event. Best know for anime themes, such as 'Brand New World' and 'Perfect Area Complete', for Hyper Japan she put on an energetic performance over two days. The highlight was a performance of the completely bonkers More More Lovers – with bonus points for the glowstick-wielding fans giving their best wotagei moments…
Also on the live bill was the UK's own export to Japan – Beckii Cruel who was performing and also promoting the new Danjo fashion label. The YouTube sensation made a few interesting choices for her performances, such as opting for dance routines to old school J-Pop outfit Pink Lady.
There was more music courtesy of the talented Masa Futagami who, once again, was adapting his violin to knock out unique versions of popular tunes from games and anime. With assistance from Daniel Tang, Koichi Shoji and Simon Leong, Masa drew a large crowd intrigued at his interpretation of the theme tunes to Tetris, Final Fantasy 10 and Mario amongst others.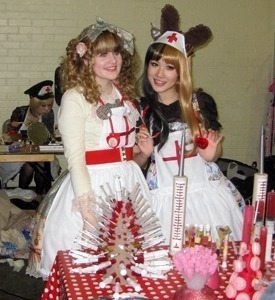 Hyper Japan also had the best choices for shopping including stalls from the likes of Tofu Cute, United Publications, Genki Gear and Third Window Films amongst others. Third Window had also arranged for film director Satoshi Miki and Eri Fuse to attend and do a live Q&A session.
There were plenty of cosplay events and activities across the weekend, including a Japanese Street Fashion show, the European Cosplay Gathering and also the World Cosplay Summit UK preliminaries. One lucky pair would be chosen to fly to Nagoya in Japan to be the official UK representatives at the World Cosplay Summit.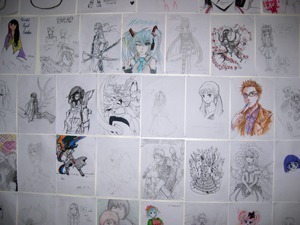 Hyper Japan's manga element was deftly handled by Chie Kutsuwada who was providing manga portraits to attendees, while the manga drawing tables was the perfect opportunity for people to try their own skills out.
Also in attendance was popular video site Nico Nico Douga. Broadcasting live back to Japan, the Niconico team were conducting on-the-spot interviews with attendees giving their impressions of Hyper Japan.
The end result was an entertaining and packed weekend – and another successful Hyper Japan. With each successive event getting bigger and better it should be very interesting to see what the next Hyper Japan delivers.
---
J-Pop Go also interviewed two of the stars of Hyper Japan: Natsuko Aso and Beckii Cruel and you can read those interviews on the J-Pop Go site soon.
---
J-Pop Go extends its thanks to Mary Moreton and all of the staff and organisers of Hyper Japan.