Lounge pop party
It seems surprising that nearly ten years have passed since Kanon Wakeshima graced UK shores as a live performer. During those interleaving years her style has been undergoing something of an evolution from the classic 'Lolita Pop' of 2008's 'Still Doll' through to the more lounge pop appeal of her most recent EP release Odd Sting & Intrigue (see J-Pop Go review previously).
Meanwhile, Jun Okada has been making a name for herself here in the UK for a while. The singer/songwriter has been interspersing her university studies with a number of live performances. Her gentle, bittersweet music has an oddly international feel which seems to transcend borders.
Tonight's performance also brings in old hand Hide Takemoto, alongside emerging act AruAru. All this is courtesy of Gig Connection, the grassroots promoters who are keen to showcase Japanese musicians in the heart of London.
AruAru brought a raw yet engaging quality to their performance with a simple box used for percussion and an electric guitar utilised in a much gentler fashion. Scattered here and there in AruAru's set are also some intriguing cover versions, including 60s classic 'Daydream Believer' and even a take on the theme tune to the iconic anime series Neon Genesis Evangelion.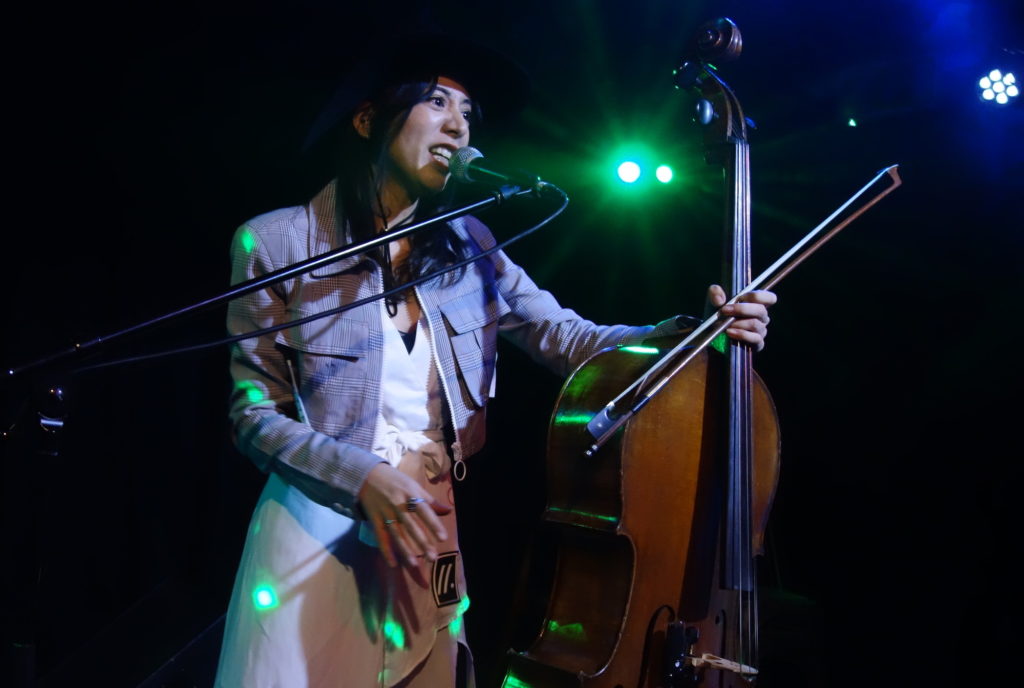 As to be expected, Kanon Wakeshima's live set revolves mainly around her latest EP, alongside some of her single releases. She spends a little time first speaking to the crowd, talking about how she first came to the UK ten years ago and how she's always wanted to live in London. Kanon cuts a striking figure on stage, particularly with the big floppy hat that she sports, although there's a more informal feel this this performance, particularly compared to the Gothic Lolita outfits that were a mainstay of early live performances.
The first song is 'Asteroid' which features some sedate cello playing from Kanon, but also serves up a gossamer feel in its lush rhythms and melodies. Kanon puts the cello down for the next track, 'Roses', enabling her to stride the stage and engage the audience directly. The tight arrangement of this track gives it a strident power and Kanon herself looks like she's enjoying herself on stage.
The more jazz-inspired 'One Last Time' offers a smoother moment during the set, complete with some emotionally-driven vocals. Meanwhile, 'Altar' (another Odd String & Intrigue number) has a hymnal quality in its sweeping strings. It also showcases Kanon's vocal talents as she hits what seems to be an impossibly high and sustained note at the end.
Similarly, 'Reverse' (which closes Kanon's set) has a dynamic quality to it with its busy rhythms and Kanon's quickfire vocal delivery. There's also a quirky quality to this composition that marks it out as one of the evening's best tunes.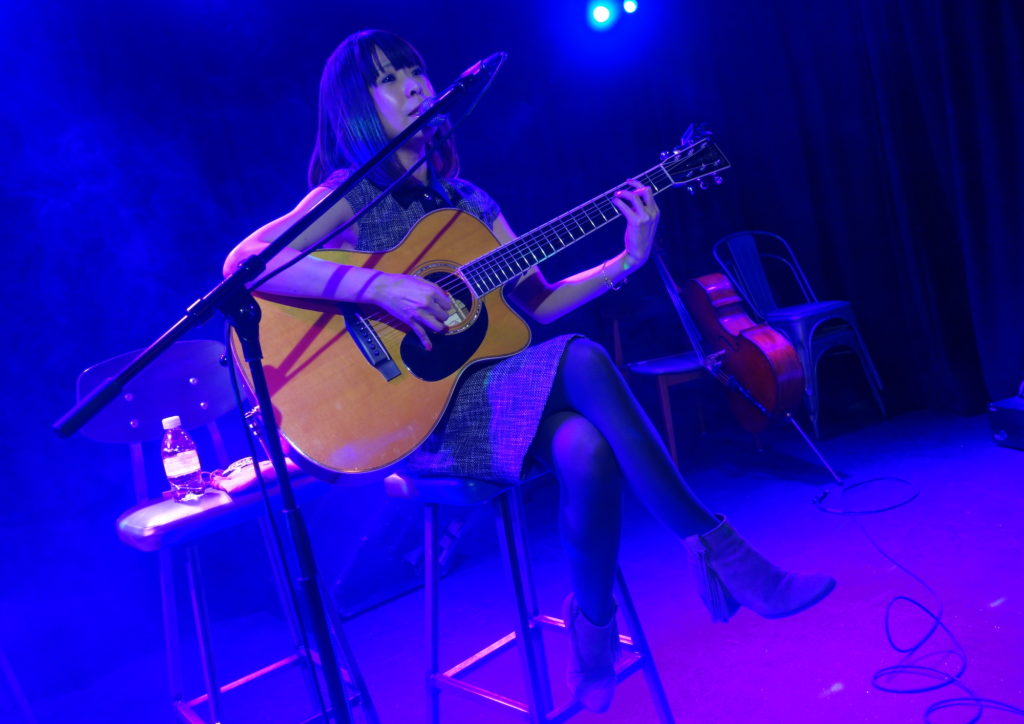 A brief switch around brings Jun Okada to the stage. Seated with her acoustic guitar, there's a more passive element to her performance; an enchanting and intimate series of songs that have a mesmerising effect on tonight's audience.
The bittersweet 'Dance Dance Dance' has a stark edge to it, but also serves up some nice melodic flourishes. Meanwhile, 'Kujira No Mizushibuki', from Jun's first album Anenome, gets a brief introduction ("I wrote this a long time ago") and has an easy-going lilt to it.
There's a sadder point when she introduces a song which is "about my life in London – I go back to Japan this Sunday", although it seems an appropriate tune to close on.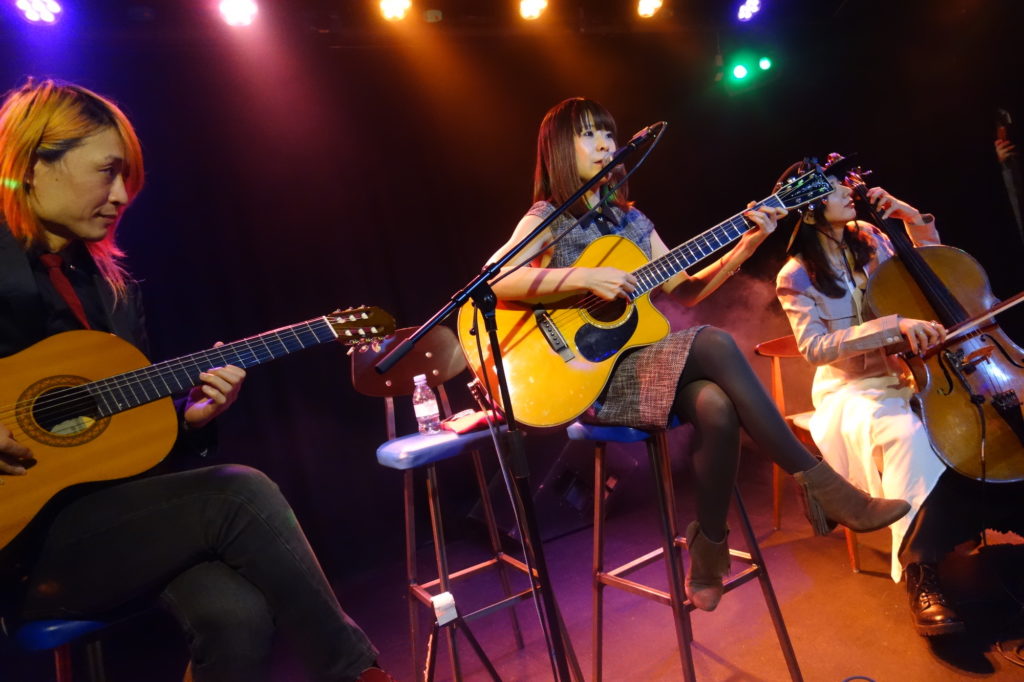 The combined talents of Jun Okada, Kanon Wakeshima and Hide Takemoto performing together adds a special zing to the final part of tonight's concert. Hide's particular guitar talents and Kanon's cello work allows Jun's music to have a broader foundation, allowing a bolder approach than Jun's more intimate solo performance.
Among the songs, a live rendition of 'Ningyo No Namida', a perky outing from Anenome which also demonstrates the range of Jun's voice. Elsewhere, 'Deep Forest' from Jun's second album has a slower, wistful feel to it while 'Spark' is given a baroque pop feel by Kanon's cello – bass tones that offer a contrast against Jun's soaring vocals. The set also includes a poignant cover of Ed Sheeran's 'The A Team'.
Tonight was a demonstration perhaps that although J-pop and idol pop continues to offer a primary colour dynamism, there's something to be said for a slower, more reflective flavour of Japanese music. Certainly, Kanon Wakeshima's baroque style lends her music a very unique and distinctive approach. Jun Okada's acoustic guitar reveries, meanwhile, have a bittersweet quality that can't fail to touch the heart. Regardless, tonight's performance has been very special.
---
http://wakeshimakanon.com/
https://www.facebook.com/Jun-Okada-