A journey into Japanese mythology…
The Kojiki is considered to be the oldest literary work in Japan, a chronicle of the myths and legends of Japanese history. It also weaves in oral traditions and semi-historical accounts and elements of its content were also adopted for Shinto practices. On that basis, it provides a wealth of inspiration for Ekotumi's assembly of songs and performances which, more recently, incorporated 'A Wingless Country' (see JPG review previously) which specifically addressed the idea that the Kojiki has become forgotten about.
As Ekotumi herself summed it up: "When I graduated university and learned to sing, I stumbled upon the Kojiki as I was looking for my own way to express myself. I was shocked to know that there was such an exciting tale in Japan and whose characters were still living amongst Shinto shrines even today!"
Ekotumi's passion for Japan's rich mythology might seem to be an unusual well of inspiration in conjunction with contemporary Japanese music. However, her live performances manage to also incorporate theatrical elements which keeps things interesting and different, particularly for those expecting a traditional music experience.
Although Ekotumi has previously graced these shores with a showcase performance at Hyper Japan back in 2016, her appearance at London's Lexington venue marks her first solo performance in the UK.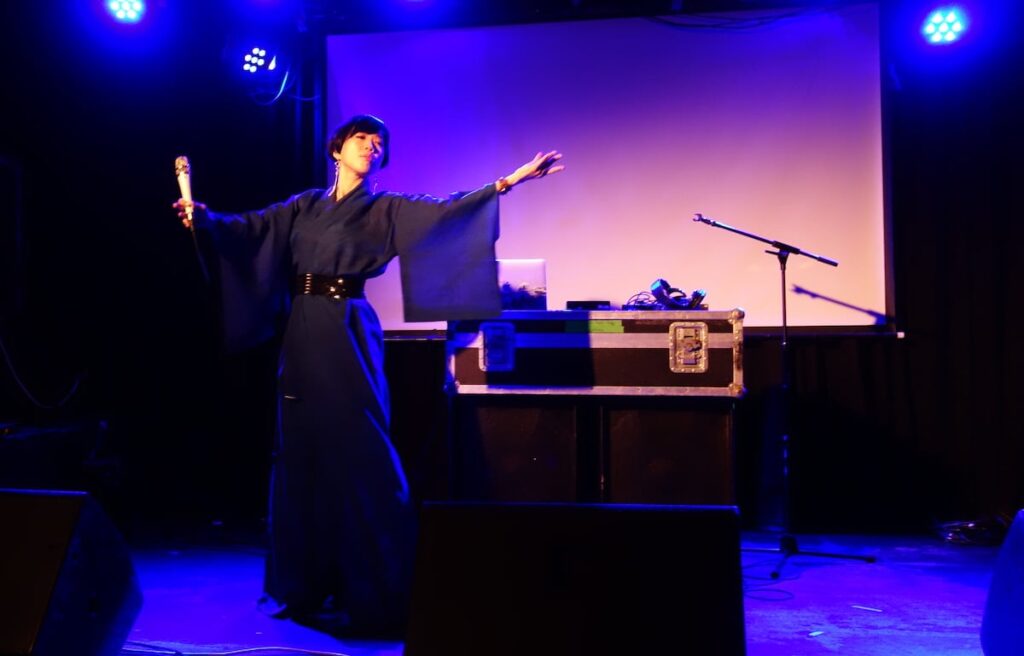 Prior to the live show, there was certainly an odd atmosphere in the room with this marking one of the first Japanese music shows in the post-lockdown period. Despite the desire to return to live performances, there's still an uncertainty with dealing with a still-present Covid-19 issue. But Ekotumi's performance is designed to transport the modern audience away from those concerns, dipping instead into Japan's deep historical and mythological past. The stage itself has a bare simplicity to it, allowing the focus to fall on Ekotumi herself and doing away with any unnecessary frills and distractions.
Tonight's performance is divided into two sections, with the first part of the evening showcasing a selection of tunes that employ alternate Japanese/English lyrics (some useful projected subtitles help during the Japanese segments). The first song has a big, percussive bass foundation to it, but also with a certain softness – particularly via a sense of fragility that Ekotumi brings with her vocal performance.
'Eight Daughters' delves into the story of Yamata no Orochi, an 8-headed monster from Japanese legend who devours sacrificial offerings in the form of the titular daughters. Despite the grim themes, the song itself is a soft, strings-heavy affair which also sees Ekotumi striking dramatic poses at apt points during the song's delivery.
At other points in the performance, Ekotumi takes to a controller on the decks at the rear of the stage, hitting out emphatic tones for some of the songs. At times, there are chiming effects and soft choral elements that are reminiscent of Kenji Kawai's work for iconic anime Ghost In The Shell. Elsewhere, there's a song with a pleasant, reedy melody to it with some wistful reveries from Ekotumi ("You are still sleeping – listen to our voices"). This half of the performance closes out with another song who's composition consists of ambient soundscapes (this time using background sounds recorded in London).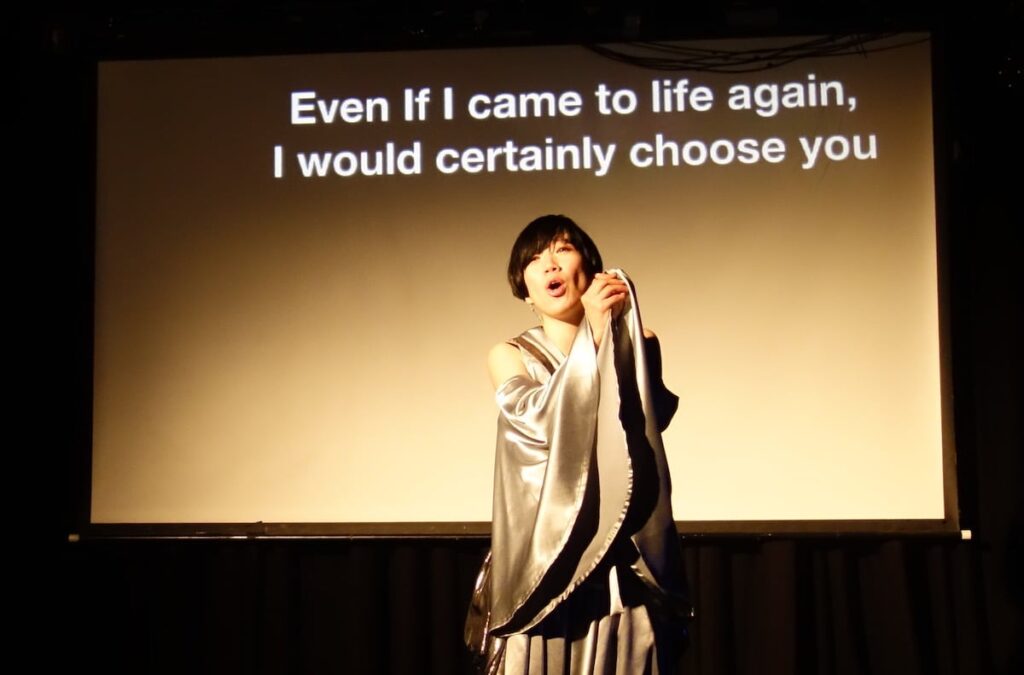 Following a brief intermission, the second half of the set sees the stage cleared and Ekotumi emerging wearing a striking silken dress which is all flowing lines. This segment of the show, as Ekotumi explains, is focussed on telling one story. There's more of a classic feel to the performances here, particularly emphasised by the Japanese vocals (again with some useful on-screen translations).
This half of the show has much more of a performance art feel to it with Ekotumi striding across the stage in bold, expressive moves. There are moments where the music is reminiscent of baroque pop-period Kanon Wakeshima. At others, there's a pastoral feel with subtle flute and strings augmenting Ekotumi's engaging vocals.
As things move to a climax, the music tapes off and Ekotumi engages in a cathartic, emotive spoken-word performance that feels heartfelt as well as gripping.
Ekotumi's unique approach to music and theatre seems to be a fitting respite during uncertain times. Her journey into the unusual landscape of Japanese mythology providing, perhaps, a chance for everyone to gain a new perspective on life.
---
http://www.ekotumi.jp
https://www.facebook.com/ekotumi
https://www.youtube.com/user/ekotumi
https://twitter.com/ekotumi