In Regeneratione Tour
It would be fair to say that occult-powered idol act NECRONOMIDOL have been through some ups and downs in recent times. The successive line-up changes can't fail to be a frustrating obstacle, presenting a precarious foundation to build on. Throw in a global pandemic and it's not too surprising that the current tour has also been dubbed 'Cursebreaker'.
Meanwhile, UK audiences have been starved of idol action during the interminable Covid-19 crisis, which essentially wiped out live performances across the board. As a result, there's perhaps an air of uncertainty hovering over the audiences for this short UK tour as people cautiously adjust to a post-lockdown environment. Promoters Orion Live have done an excellent job, however, in dealing with this tour and maintaining a vital link with UK fans. Certainly, the return of live events has to be something that's celebrated (at the same time as drinks prices have shot through the roof…).
Necroma's global exploits have also formed part of an expansion of sorts of idol culture, as Himari Tsukishiro mentioned in our Necroma interview back in 2019: "Since Necronomidol has been going overseas for several years, over the course of those years we've seen other groups near to us also going overseas. The underground idol scene itself has become more of an international expression of Japanese culture similar to anime."
Currently, the line-up of Necroma consists of Himari Tsukishiro (the veteran), Nana Kamino, Meica Mochinaga and Malin Kozakura, the latter two having only joined in April 2021. Any concerns about this augmented version of Necroma lacking confidence or being unsteady is swiftly dismissed as the four-strong gang command the stage at London's Boston Music Room in style.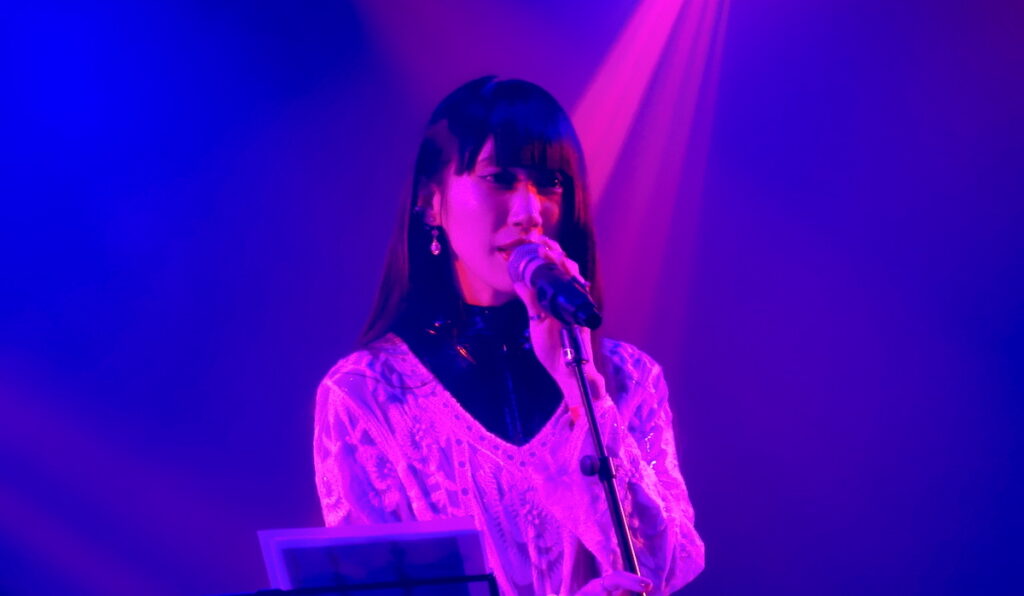 But prior to the heavy duty idol action, there's a bonus – Himari doubles up as support with a brief solo segment to whet the crowd's appetite. The polar opposite of Necroma's idol dynamism, Himari instead effects a more tranquil presence with soft, wistful songs. At times there's gentle guitar and flute moments. At others, there's string effects and accordion fills, lending one song a Gallic charm. There's even a number built around the classic Pachelbel's Canon, giving Himari's vocals a pastoral vibe.
By contrast, Necroma project an almost physical energy as soon as they hit the stage. Tunes such as 'ITHAQUA' tap into a chemistry between the audience and the twirling figures on stage with clapping and urgent calls erupting from the sea of fans. The chugging guitars and tumbling percussion of 'END OF DAYS' offers a curious background for some evocative harmonics while a superb 'santa sangre' delivers a sweeter, melodic feel (but with some heavy bass underpinning it) and allows Malin in particular to show her vocal chops.
Then it's time for a welcome MC, giving the girls an opportunity for introductions – and a chance to take a break from the rigorous routine of the singing/dancing combination. At times, it's tough to appreciate how draining that choreography must be, particularly as stage space is at a premium. Certainly, songs such as the strident 'cassilda' tonight present a challenging combo of complicated dance moves and some impressively high notes in the vocal performance. As with a lot of idol acts, the MC moments are smartly built into any performance for convenient little rest spots.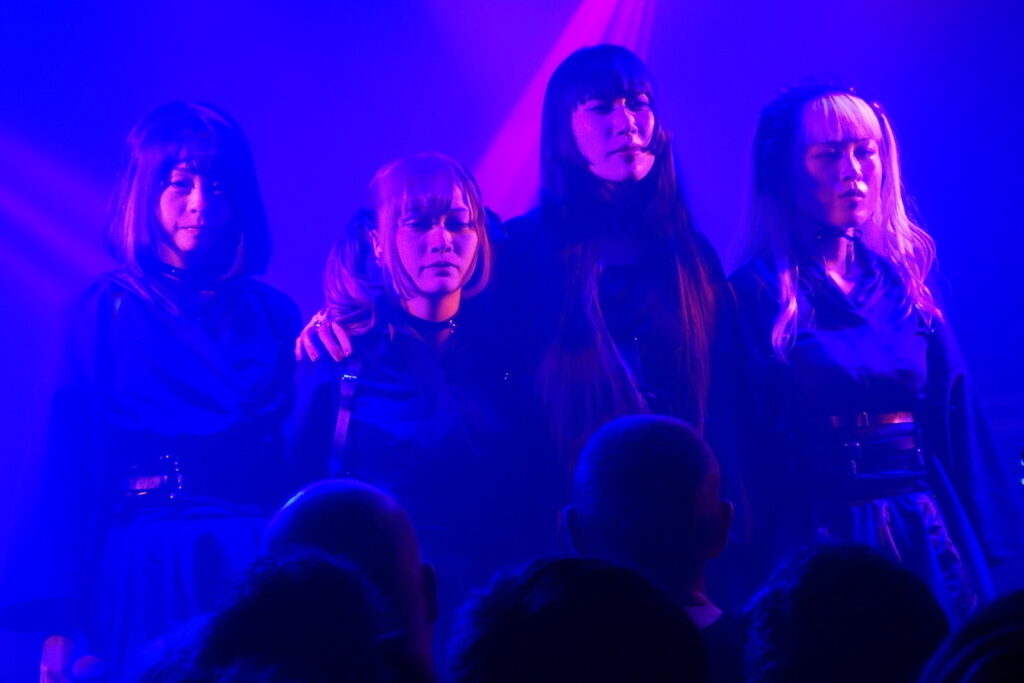 Meanwhile, Necroma's set drops back into heavy mode with the brooding tones of 'RITUAL' and the quirky off-kilter 'SAMHAIN'. There's also the fast-paced melodic 'NYX' to keep things interesting. The tour also appears to be an opportunity to slot in newer material, including songs such as 'Ulthar' and the eerily engaging 'Invocation' (with its unsettling occult intro).
Himari quizzes the audience during the next MC: "Did you see us two years ago at Hyper Japan?", which gets a suitably agreeable roar from the assembled crowd. In fact, Necroma's appearance at the 2019 event proved to be one of Hyper Japan's most enthusiastically received musical performances (including a stunning euphoric 'Phantasmogoria Cosmos').
But back to the present day and, as ever, the encore-busting 'SKULLS IN THE STARS' gets the biggest cheer of the evening. The crowd immediately start a regimented chanting to accompany the Necroma girls, who eagerly feed off that energy in the room. Despite being drenched in sweat, they're really enjoying themselves as they bounce across the stage.
NECRONOMIDOL have always received a warm reception in the UK with a fervent fanbase always keen to see live idol action. Despite the dramas that the outfit have gone through in recent times, that love is still ever-present and we look forward to seeing their return in the very near future.
---
NECRONOMIDOL' In Regeneratione Tour continues in Europe this month: http://necronomidol.com/europe-tour-2021
http://necronomidol.com/
https://necronomidol.bandcamp.com
https://twitter.com/NECRONOMIDOL