Hyper Summer Thrills…
Celebrating 10 years of events, Hyper Japan launched once again into the summer with 3 days of food, fashion, gaming, cosplay, anime and music all connected with a Japanese theme.
As ever, for this year's event, Hyper Japan had a broad variety of music guests designed to appeal to everyone from rock fans through to idol pop enthusiasts. Among those guests at this year's event is Naomi Suzuki. A popular figure on London's busy Japanese culture and music scene, Naomi is probably best-known for her MC work at the annual Japan Matsuri (see J-Pop Go's previous interview).
Naomi has produced the Bridge Together Project, part of the Beyond 2020 programme, designed to create a long-lasting Olympic legacy for the Tokyo 2020 Olympic and Paralympic Games. The project aims to introduce the beauty of Japanese culture to a diverse global audience and encourage people from all over the world to visit Japan.
Naomi is also one of the special ambassadors of the host city, Fukuoka, for this year's Rugby World Cup in Japan. As a result, she gave a stirring rendition of the Rugby World Cup Anthem, 'World in Union' on the HYPER Live! Stage. This sits in a set that also features the gentle ballad of 'Smile At Me', an evocative 'My Country' (dedicated to Naomi's home of Tagawa) and also 'Rise Up', whose Celtic-like trills provide the backdrop to projections of the English landscape.
Hyper Japan also provided the venue for the first European performance for mysterious cyber punk outfit IJEN KAI. Consisting of Lee Loi, So Shin and Ringa the mysterious trio kept their faces hidden – all part of their persona as "a band of unidentified origins". In performance, their music weaves in crunchy electronics, thumping percussion and a nod to some industrial elements.
Promoting their new album Si01, the cyberpunk outfit certainly have some robust tunes at their disposal. Meanwhile, the sci-fi outfits and some visually striking choreography keeps things interesting on stage.
But perhaps one of the most eagerly anticipated acts at Hyper Japan this years is Necronomidol. The underground idol outfit have been building up a steady reputation in recent years – bolstered by their most recent EP release Scions Of The Blasted Heath. The 5-strong outfit currently consists of Kakizaki Risaki, Imaizumi Rei, Tsukishiro Himari, Kunogi Kenbishi and Michelle (the latter two having joined this year after the departure of previous members Hina and Sari).
Drawing on occult imagery (including the work of iconic horror writer HP Lovecraft), Necronomidol combine a heavy rock approach with elements of metal and idol pop. Their Hyper Japan set focussed on the best tunes in their live arsenal, including a bass-heavy 'Children Of The Night' and a euphoric 'Phantasmogoria Cosmos' – one of their new numbers that also gets an enthusiastic reaction from the Hyper Japan crowd.
There's also a dizzying selection of choreography on the stage as all five members dart back and forth, adopting poses and alternating singing roles. With some handclapping encouraged by the Necroma team, the audience really gets into the performance – particularly the well-received 'Skulls In The Stars', which sees Rei hitting an impressive high solo note.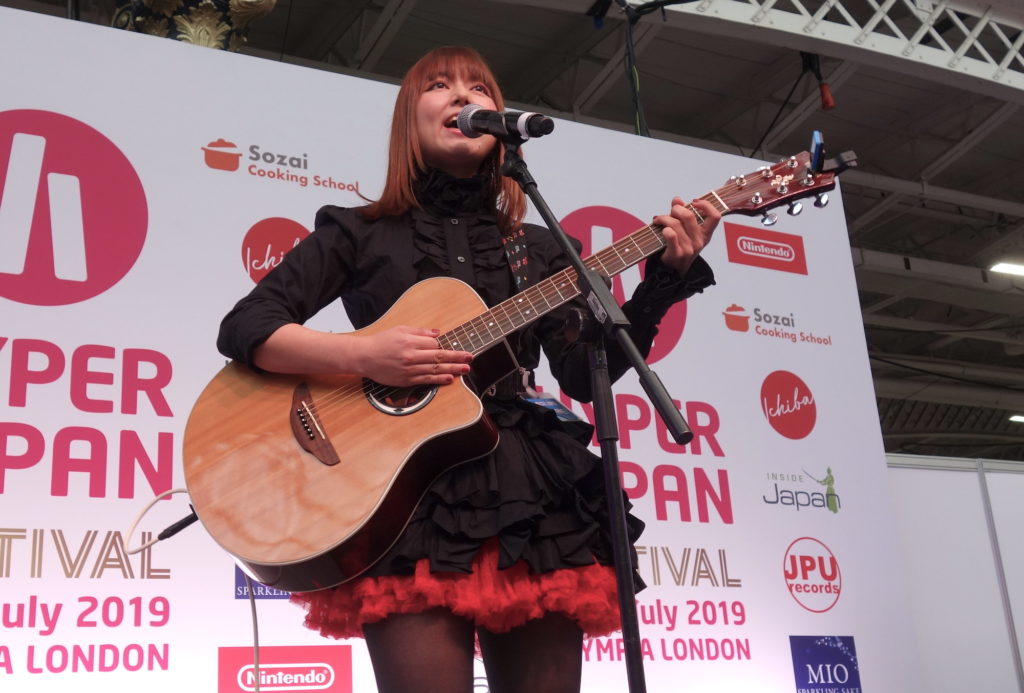 But outside of the darker end of the music spectrum, attendees were also treated to some gentler moments. This included an appearance by musician and radio personality choco.
Hailing from Karatsu in Saga prefecture, her songs reflect her love of nature and the beauty of her hometown. On the whole, this translates into a breezy vibe of uptempo numbers that gravitate towards a particular J-pop/anime style.
This includes the easy moods of 'ぺありんぐ (Pairing)' and the more punchy melodies of 'Sweet Jet. Also nestling among choco's set is a zippy cover of the opening theme from popular idol anime Zombie Land Saga (which is also set in choco's home of Karatsu). Although relegated to many of the early morning slots across the course of the weekend, choco managed to win over audiences with her engaging tunes – and also her plush frog companion Yoshi 🙂
There was also a brisk business to be done on the various stalls at Hyper Japan, including a dedicated one for Necronomidol. For those attending any of the UK Necroma shows, a few familiar faces were always there to ensure a smooth process for both performances as well as the post-show cheki sessions.
The Orion Live team of Chris and Dave has already been established through a series of other underground idol shows (including 2018's Indie, Idol & Infamous tour). Orion's team dovetails quite neatly with the Necroma team of idol guru Ricky Wilson as well as Derek Vasconi, international tour coordinator for Necronomidol, who could often be spotted wielding cameras for Necroma's performances or liaising with fans on the merchandise stall among his many roles.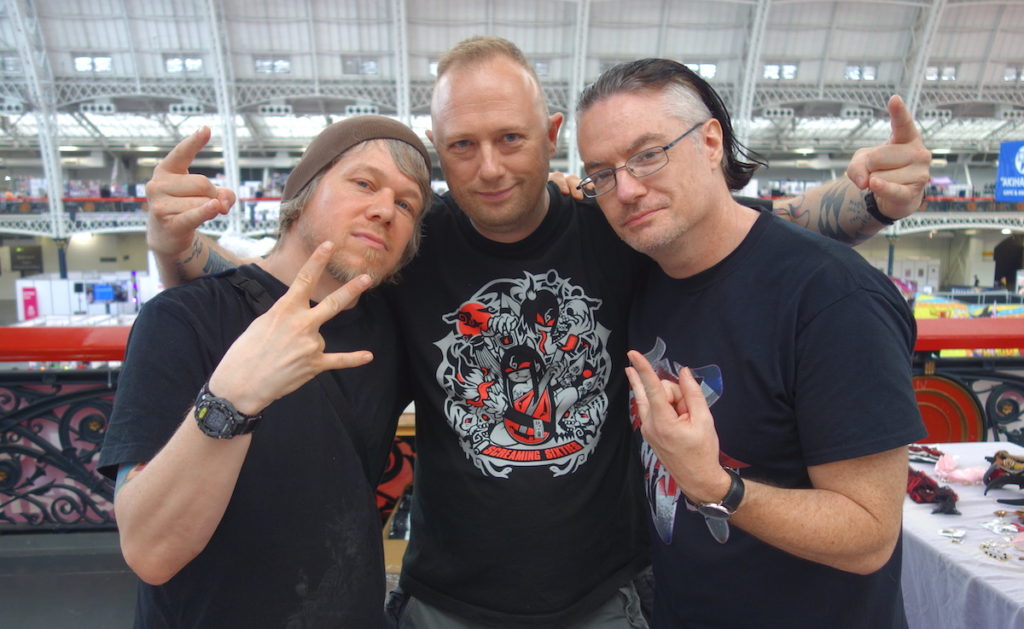 Derek (the be-hatted gent seen above next to Orion's Dave and Chris), has an intriguing story predating his idol work. Like many of the players in the underground idol scene, there's a strong connection to the world of metal. As well as being on hand for Necroma's shows, Derek also looks after the recently-launched online site Idol Underworld which serves to deliver idol merch directly to western fans.
The most striking aspect of Derek Vasconi is his general enthusiasm and energy, particularly for the idol fans that patiently line-up for chekis and merchandise. But it's also an enthusiasm that extends to the world of blogging and idol coverage ("We're big fans of J-Pop Go!") and a keen desire to spread the word. In an interview with J-Pop Go at Hyper Japan, Derek outlined his vision for Idol Underworld: "I wanted to create a bridge to foreign fans who don't have access to this, who maybe want to hear a group, but they don't want to go to Tokyo and go to a show or they just can't for any reason. They can at least get that music and not go through all these weird channels to do it."
Changing gear on the musical front, KUNI-KEN are brothers Kuniaki and Kenji from Yokkaichi in Mie prefecture. The pair have been performing a unique blend of rock music and Japanese shamisen for over 15 years. They've made a name for themselves both in Japan and across the world with shows at huge events in Singapore, Myanmar, Madrid and Paris.
There's a confident swagger to their stage performance coupled with percussive rock rhythms and a combo of solo vocal and some harmonics. The use of masks also gives the performance an air of mystery, although once the masks come off the duo can really cut loose on stage – including a brief shamisen duelling session.
Away from the main stage performances, we were also surprised by a K-On! tribute act. Hirasawa to Tainaka (aka Serina and Manamin) are a duo modelling themselves after the characters of Yui and Ritsu from the iconic music anime series (see the J-Pop Go interview).
During the course of their performances, the duo delivered a broad range of K-On! classics. Their setlist included 'Cagayake! Girls', 'Don't Say 'Lazy", 'Fuwa Fuwa Time' and 'GO!GO!MANIAC'. Adding to the theme, the pair also adopted a range of costume changes for different shows.
Hyper Japan was seen out on the final day of the event with yet another dynamic performance from Necronomidol. It's not tough to see how the underground idol outfit have achieved their popularity – and it's also clear that the Necroma gang really do put a lot of effort into their performances (all of them are sweating buckets by the time their stage show draws to a close).
While Hyper Japan continues to offer a bewildering array of Japanese cultural-themes activities every year, their musical schedule also continues to offer surprises. With the next event scheduled for summer 2020, there's little to do but ponder on what music guests will be gracing the stage next year.
---
Bonus Hyper Japan Gallery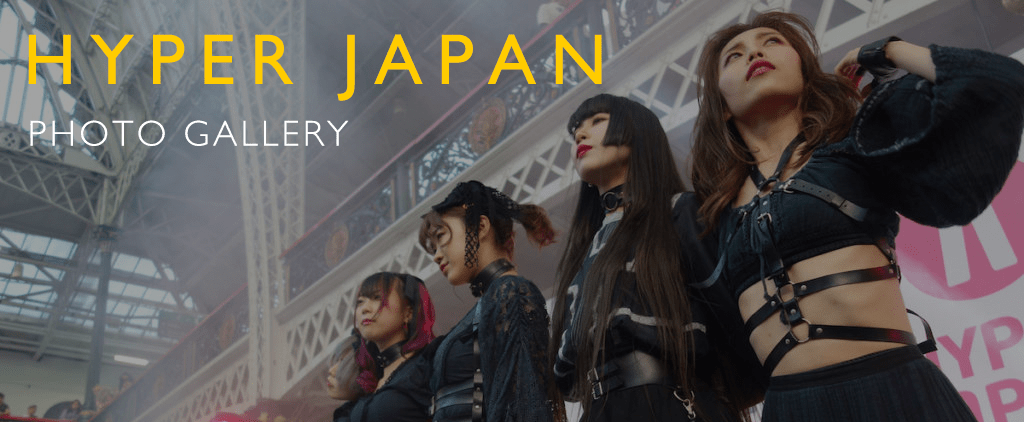 ---
---
---
---
---
Hyper Japan returns 10th-12th July 2019.
hyperjapan.co.uk
http://www.facebook.com/hyperjapan
http://www.twitter.com/hyperjapanevent
Website: http://necronomidol.com/
Facebook: https://www.facebook.com/necronomidol/
Youtube: https://www.youtube.com/user/necronomidol
Facebook: https://www.facebook.com/IJENKAI/
Instagram: https://www.instagram.com/ijen_kai/
Youtube: https://www.youtube.com/channel/UCWz9_LMbQijzAsw_VZb0BFQ
Twitter: https://twitter.com/Galaxy7dt
YouTube: https://www.youtube.com/channel/UCS8V4BXOMO9Sjeh9X84G6WA
Instagram: https://www.instagram.com/suzuki.naomi/
Facebook: https://www.facebook.com/naomi.suzuki.9659
Website: https://www.wh4e.com/choco/
Twitter: https://www.twitter.com/chocofmkaratsu/
Website: https://www.kuni-ken.com
Twitter: https://twitter.com/KUNIKEN_MK
Instagram: https://www.instagram.com/kuniken_ig/
Facebook: https://www.facebook.com/KUNI-KEN-256375214423312/
---