Anime pop go…
J-pop duo GARNiDELiA continue adding to their anime theme song portfolio with new tune 'Otome no kokoroe', ahead of the release of a new album.
Consisting of singer Mai Mizuhashi (aka MARiA) and Vocaloid producer Yoshinori Abe (aka toku), GARNiDELiA have previously lent their talents to anime titles such as Kill la Kill, Gundam Reconguista in G and Fate/Apocrypha. In 2016, they also collaborated with ClariS for the ending theme to Qualidea Code.
---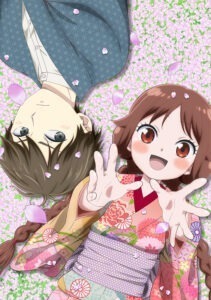 The stirring tune that makes up 'Otome no kokoroe' is taken from the anime series Taishou Otome Fairy tale. Set in the Taisho era, the story concerns Tamahiko Shima who was born to a wealthy family, but suffered an accident and lost the ability of his right arm. His mother passed away and his father cast him away to the countryside with the excuse it would help him heal. Instead, Tamahiko becomes a bitter pessimist who hates everything in the world.
Tamahiko's world is changed by the arrival of a girl called Yuzuki, actually sent by his father as a possible wife. Although he's initially annoyed by Yuzuki in typical anime style, Tamahiko gradually opens up to her kindness and her smile.
GARNiDELiA first collaborated for the 2010 anime series Freezing, with the inclusion of the strident rock number 'Colour'. After they transferred to the Pony Canyon record label, the pair released individual solo works for a year and have just restarted their activity together for new album Duality Code.
Marking GARNiDELiA's fifth studio album, Duality Code features 12 new tracks, which includes 'Otome no kokoroe'. The album also featues 'Haruga Kitayo', which is the opening theme song of TV drama Douse Mou Nigerarenai.
What's intriguing about the new song is the big band flourishes that the perky tune employs (echoed in the visual spectacle of the video) . Meanwhile, MARiA is thoroughly enjoying herself with an uptempo vocal delivery ("Since I met you my happiness has never stopped.")
GARNiDELiA are also embarking on a live tour in Japan to promote Duality Code, which will start from 5th December.
---
Duality Code is released 17th November 2021.
https://lnk.to/GARNiDELiA_streaming
YouTube: https://www.youtube.com/channel/UCAYfguaShVaNDU561_jJoOQ
Twitter: https://twitter.com/GARNiDELiA
Facebook: https://www.facebook.com/GARNiDELiA/