Japanese musical acts assemble…
July sees the return of Japanese cultural event Hyper Japan to London, this year taking place at Evolution between 22-24 July 2022.
As part of Hyper Japan's 2022 activities, they're teaming up with promoters Orion Live to stage two nights of exclusive performances from a variety of Japanese musicians and performers.
The Hyper Live event will be staged over July 22nd and 23rd. The Friday performance on the main stage will be the Hyper Party selection running from 20:00 (Doors: 19:30). Saturday is being billed as the Japanese Underground and Alternative selection. Again on the main stage running from 20:00 (Doors: 19:30).
Here's the details on the acts performing.
FEMM 2.0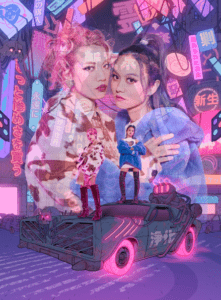 FEMM's crunchy 2014 hit 'Fxxk Boyz Get Money' put rap mannequins RiRi and LuLa on the map, swiftly followed by the kinetic pop on their Femm-Isation album. 2017's 80's-90's J-Pop Revival offered a love letter to J-pop's classic era while 2020 EP 404 Not Found was released in pursuit of "a brand new sound that doesn't exist anywhere else (yet)". This led to an "upgrade" and launched a new era for the iconic duo as FEMM 2.0.
FEMM employ a slickness and a style to their compositions that also carries over to their video and live performance work. At the same time, their music is constantly evolving with new videos revealing a much more human aspect to RiRi and LuLa as they show a departure from their tight mannequin style to bust out more fluid moves.
Their album Tokyo Girls Anthem was made in collaboration with hip-hop producers such as Boys Noize and Star Boy. FEMM then released their latest album, Tokyo Ex Machina in January 2022. FEMM's often-abrasive approach to Hyper Pop has marked them out as one of the most interesting combos to emerge from Japan's music scene.
MIKUROMIKA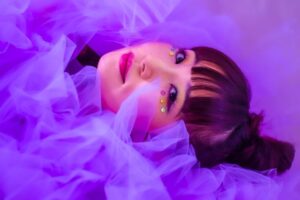 Inspired by acts such as Japanese R&B legend MISIA, as well as iconic western artists Lady Gaga and Cindy Lauper, MIKUROMIKA's music is an unusual electronic-based mix that throws nods to house, trance, J-pop combined with a slightly left-field approach.
Describing her music as "MIKURO POP" (see J-Pop Go feature previously), her compositions serve up a chilled-out pop approach that seems to skirt around easily definable labels, emerging as something more unique and unusual.
What emerges from the compositions that MIKUROMIKA serves up is a diversity in style and approach, such as the likes of 'Product boy' offering widescreen, dynamic J-pop, while 'Good Day' is more laid back lounge pop. That eclectic musical style is reflected in Mika's love of music, art and fashion, merging disparate passions into a unique package deal. Meanwhile, MIKA's lyrics are, similarly, a fusion of Japanese and English.
NECRONOMIDOL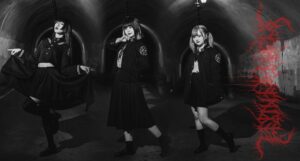 Formed in 2014, NECRONOMIDOL is an ultradark Tokyo-based Japanese idol unit. Playing black metal, darkwave, NWOBHM and other eclectic genres of music Necroma's ultradimensional choreography and performance have blackened stages all across Japan.
Compositions such as 'Skulls In The Stars' (essentially the occult outfit's signature tune) are illustrative of Necroma's powerful style. Here, the barely contained energy of the composition is bolstered by tight guitars and a dramatic vocal delivery. The chugging guitars and tumbling percussion of 'END OF DAYS' weaves in some evocative harmonics while tracks such as 'santa sangre' deliver a sweeter, melodic feel.
On stage, the dark outfits and tightly choreographed dance moves elevates Necroma into performance art on another level entirely, making them one of the most dynamic idol outfits of recent years.
DOUBLE AND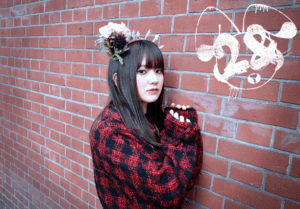 Double And (aka Chitose Saki) is a solo J-pop idol hailing from Tokyo. Influenced by artists such as Avril Lavigne and Halsey as well as female lead vocalist groups such as Paramore and Stand Atlantic, Saki was originally part of classic idol outfit Guso Drop from 2014 to 2016.
Saki released her debut Double And album in 2015. Placing an emphasis on the live experience, Double And maintains a demanding live performance schedule in Japan. Her dynamic performances are known for vocal intensity with tightly choreographed dance routines utilizing influence from her gymnastics background. In 2016, Double And began to take up the study of musical instruments, particularly guitar, and has begun occasionally incorporating acoustic guitar in her shows.
Double And has performed at numerous conventions throughout Asia and has toured the UK with NECRONOMIDOL and The Screaming 60s on the 2018 Black Winds of Albion tour. She was also part of 2019's Indie, Idol and Infamous UK tour in 2019.
BLANK PAPER

Established in 2021, this cryptic duo are known only by their code names'C45P3R' and 'T3R354'. Their debut song 'enemy' was used as the opening theme for the anime AMAIM Warrior at the Borderline, and as the entrance song for Muay Thai boxer Nadaka Yoshinari.
blank paper's approach to performance starts with a piece of blank paper and see where the collective journey goes. The result of this creative process is known as 'bpm' (blank paper medicine). Each dose contains high concentrations of energy and emotions from varying sources, which can lead to side effects of a transcendental nature upon the listener.
MIKA KOBAYASHI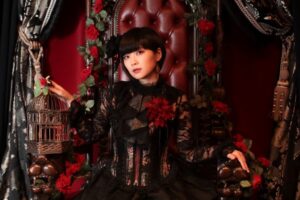 Singer/songwriter Mika Kobayashi sings a number of theme songs for anime and games, Including The Promised Neverland, Attack on Titan (Shingeki no Kyojin), Kabaneri of the Iron Fortress, Gundam UC, Aldonoa Zero, FINAL FANTASY XI, Xenoblade X, Dragon's Dogma: Dark Arisen, and more.
Her signature melody is reminiscent of classical music, while her talent as a vocalist is distinguished by her passionate and powerful voice when she sings songs on battles and conflicts. Mika started to perform overseas in 2010 and has been touring everywhere, inside and outside of Japan with a focus on European countries.
Mikais a natural born live performance artist and has been enjoyed all over the world.
GARUDA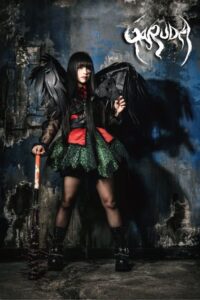 GARUDA is the dark industrial gothic project of idol Yuffie Sakamura. Taking alternative heavy idol to the next level both musically and visually, GARUDA has been captivating audiences across Japan and overseas since the release of her first single 'Mousuguyukiga'. GARUDA released the album The Battle of Nightmares in 2020.
In 2019, GARUDA came to the UK as part of the Indie, Idol and Infamous UK tour, alongside Hanako-san and Double And. There's certainly a more muscular aspect to her material than one might expect from an idol. GARUDA has also worked with Mr. Perkele, (part of the Necronomidol live band) which accounts for the tight arrangements and beefy sounds.
With her distinctive plague mask, dark angel wings and trademark bat, GARUDA's live performance is one of the most unique presentations in Japanese idol.
MIURA AYAME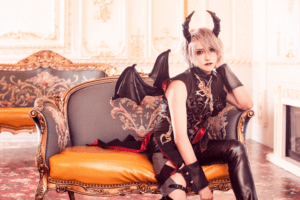 Miura Ayame is a musician, voice actor, cosplayer, actor and mystery game writer. Keen to explore outside of his domestic roots in Japan, Ayame has appeared at Hyper Japan in the UK, Japanicon in Poland as well as Japan Expo in France.
In 2019 Ayme appeared in Anime Expo as the official cosplayer for 'Obey Me!' from 'Shall we date', which is the TOP1 otome game series in the U.S. Ayme is involved in the series as a voice actor for 'Asmodeus', and 'Sinful Indulgence' by Miura Ayme is tied-in as the theme song.
As a mystery game writer Ayme is renowned as the main director for 'Danganronpa' and 'Obey Me!'.
BANG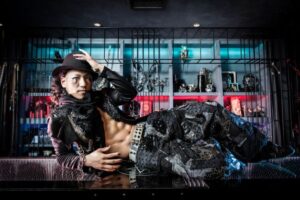 BANG's unique dance performance focuses on "Animation Dance – a modern version of robot dance " which incorporates video and staging effects. Bang is a master of a wide varieties of performance styles, but is best known for his signature dark and gothic style.
In 2017, he founded Team BANG, a group of top performers. He has worked on many creative fields such as screenplays, productions, and choreography in collaboration with the world of movies and animation.
Lately, he has been involved with anime and theatre productions and directing animation x animation dance.
---
Hyper Japan takes place between 22-24 July 2022 at Evolution London, Battersea Park, Chelsea Brg, Queenstown Rd, London SW11 4NJ. More details: https://hyperjapan.co.uk/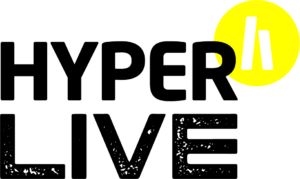 More details on Hyper Live 2022:
https://hyperjapan.co.uk/festival/exhibitor/hyper-live/
Hyper Live tickets are available here:
https://www.eventbrite.co.uk/e/hyper-live-tickets-338906958837