Sealed with a kiss…
While their distinctive electronic pop sound is present and correct, FEMM's latest outing features a video that showcases a very different approach from our favourite pop mannequin outfit.
Previously, FEMM (aka RiRi and LuLa) managed to achieve recognition via the brash electro-rap of 2014's 'Fxxk Boyz Get Money'. Meanwhile, their debut album Femm-Isation brought the duo to a whole new audience, reaching the Top 10 of Billboard's World Albums chart in the US.
Their 2017 album 80s/90s J-POP REVIVAL saw FEMM covering some classic J-pop tunes in their own distinctive style, but they've been ramping up their presence ever since with 2020 delivering the euphoric 'Chewing Gum Cleaner' and a smart collaboration with Duke of Harajuku (a member of music label tokyovitamin) which gave us the sublime 'Summer Dream' and the clipped beats of 'Level Up'.
In December 2020, they unveiled new song 'Sit Down', which heralded new EP 404 Not Found. It also came complete with a striking new video shot in one take (produced by Japanese bass duo HABANERO POSSE) in which FEMM interact in real-time with massive screens. This all formed part of the duo's reinvention as FEMM 2.0, which continued to keep their creative concepts in the public eye.
---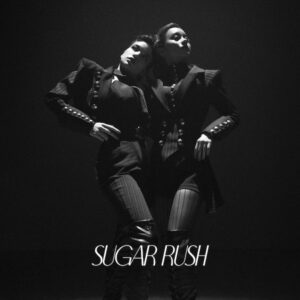 FEMM aren't content to sit it out in 2021 either. New release 'Sugar Rush' (not to be confused with the other 'Sugar Rush') is described as a dark, dangerous love song dealing with the perils of losing all reason when falling in love. But with an upbeat, perky melody, the song's darker themes might not be that apparent on first listen. The video, meanwhile, unveils a dance routine across a dark, desaturated stage as gliding unicycle dance troupe MIRACLE pirouette across it. Here, RiRi and LuLa demonstrate a departure of sorts from their tight mannequin moves to bust out more fluid (and decidedly more human) moves.
The noir style of the video, augmented with the sweeping dance moves of MIRACLE's 'Sugarbots', lends the whole affair a visually captivating appeal. It's not surprising that the video was directed by Ryo Noguchi, a member of U-min and WORLD ORDER. The choreography (shared between Noguchi with Makiko Izu and Nao Usui) is impressively striking, while also offering a stylistic contrast against FEMM's bright synth-pop melodies.
It seems a long way from the days of 'Fxxk Boyz Get Money', but the duo's clipped electronic compositions have always retained a unique sound that is unmistakably FEMM. Similar to a lot of their contemporaries, their style has simply become slicker and more polished over subsequent years.
'Sugar Rush' is gloriously addictive as a composition, with uplifting sweeps and an engaging percussive base to it. It's also nice to see a more human aspect to our mannequin chums – and suggests that FEMM's evolution will be continuing for some time yet.
---
'Sugar Rush' is out now via JPU Records: https://jpurecords.com/collections/femm/products/femm-sugar-rush
Official website: https://femms.jp/
Instagram: https://www.instagram.com/femm____/
Twitter: https://twitter.com/FEMM____
YouTube: https://bit.ly/2THLXBn
TikTok: https://vt.tiktok.com/ZSJ14XWfX/