You can just be yourself
Those people with a keen interest in J-pop in the UK will of course be aware of Orion Live's passion in bringing underground acts to the country in previous years. Their efforts have in turn sparked the launch of Setsuzoku Records, a dedicated UK-based record label designed to smooth the process of getting Japanese music to UK audiences.
Among the artists that Setsuzoku have added to their roster is singer-songwriter MIKUROMIKA, whose low-res J-pop style perhaps runs counter to the heavier acts that Orion and Setsuzoku have promoted in the past. At the same time, Mika represents the first artist that Orion Live have begun managing directly, demonstrating their keen interest in investing time and effort into artists.
Mika was born in Tochigi, a small town north of Tokyo and harboured a desire for music from a young age. At the same time, she battled to overcome shyness to emerge as a musician and performer.
Previously, Mika had spent time with the group 3cro Adventure, which led to working as a support vocalist in K-pop, appearances in international fashion magazines and even to New York City supporting Cissy Houston. Mika later made her way to Canada to perform at the Anime North convention in Toronto and at Japan-Festival Canada. As a result, she's managed to give her music a global reach which now includes the UK (including a presence at Hyper Japan's 2021 online event).
---
Inspired by acts such as Japanese R&B legend MISIA, as well as iconic western artists Lady Gaga and Cindy Lauper, MIKUROMIKA's music is an unusual electronic-based mix that throws nods to house, trance, J-pop combined with a slightly left-field approach. Describing her music as "MIKURO POP", her compositions serve up a chilled-out pop approach that seems to skirt around easily definable labels, emerging as something more unique and unusual.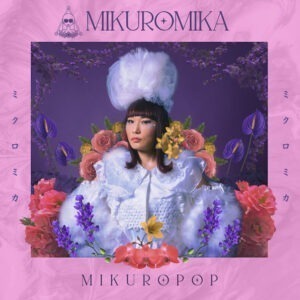 As an example, 'BABY' (which originally emerged in 2020), demonstrates a tight, slick pop sheen. It also saw Mika collaborating with Argentinian musician and producer Delta Ouji, who acts as co-executive producer (alongside Orion's Chris Morris) on MIKA's forthcoming debut album MIKUROPOP (Ouji's talents also include the graphic design utilised for the album).
Ouji also fills the role of producer and engineer for most of MIKUROPOP's material. The other tracks see the involvement of Canadian producer Michael Staple, who has a background in video game music and chiptune composition.
What emerges from the compositions that MIKUROMIKA serves up is a diversity in style and approach, such as the likes of 'Product boy' being widescreen, dynamic J-pop, while 'Good Day' is more laid back lounge pop. That eclectic musical style is reflected in Mika's love of music, art and fashion, merging disparate passions into a unique package deal. Meanwhile, MIKA's lyrics are, similarly, a fusion of Japanese and English.
---
Mika's musical journey hasn't been a completely smooth ride. A cancer diagnosis cast a cloud over her musical ambitions, but she was keen to carry on singing and performing. Luckily, the cancer is currently in remission, but it's clearly a tough aspect to wrestle with for anyone, let alone a creative mind.
MIKUROPOP provides a suitable showcase for Mika's intriguing musical ideas. Tracks such as 'Sekairyoko – World Traveler' and 'BABY' have hints of Perfume in their DNA, offering up a slick technopop delivery. Conversely, 'Take Action!!' seems more reminiscent of FEMM with chiptune flourishes and Michael Staple's production giving it a crisp, clean finish.
Meanwhile, compositions such as 'BYAKUYA', with its lilting easy going melodies, or the breezy 'Small Island' have a strangely mesmerising quirkiness to them.
That offbeat approach suggests comparisons with artists such as Zombie-Chang, although there's much more of a dedication to a J-pop vibe at work here. Ultimately, MIKUROMIKA serves up a refreshing and spirited take on J-pop that's going to resonate with fans who like to dabble in the unconventional.
---
MIKUROPOP is due out on 23rd July on Setsuzoku Records. https://linktr.ee/mikuromika
MIKUROMIKA will be staging a live Q&A session for Hyper Japan on July 21st at 17:00 BST. https://hyperjapan.co.uk/online/exhibitor/mikuromika-presented-by-orion-live/
https://www.mikuromika.com
https://www.facebook.com/mika.mikuro
https://twitter.com/3cro_mika
https://www.setsuzokurecords.com
https://www.orionlive.co.uk