Mannequin Pop Go
Ahead of their UK/EU tour, FEMM 2.0 have announced more details of their live show plans. Joining the electronic pop outfit will be low-res J-pop artist MIKUROMIKA (see J-Pop Go feature previously) in support.
The pair have also announced that laser artists YAMACHANG, responsible for the music video's impressive visuals, will be joining FEMM for the London performances at Boston Music Room and Hyper Japan. Plus, FEMM will add a further date to the tour with an appearance at Japan Expo in Paris, the largest celebration of Japanese pop culture outside of Japan.
Meanwhile, brand-new video 'Falling For A Lullaby' has just been released. The song is produced by Jenna Andrews, the songwriter responsible for K-pop mega hit 'Butter' by BTS. Featuring a pounding, cyberpunk synth bassline and super-sweet pop vocals, it has become one of FEMM's most defining tracks and is one of the duo's most streamed songs.
'Falling for a Lullaby' was originally released in 2017 as a B-side on FEMM's double A side single 'My Revolution' / 'Konyaha Boogie Back', which featured members from EDM group FAKY as well as Yup'in. The track has been remastered and features on FEMM's third album Tokyo Ex Machina, released on CD for the first time this summer from JPU Records.
FEMM will also be adding a further date to the EU & UK tour with an appearance at Japan Expo in Paris on 16 July at the event's YUZU stage. RiRi and LuLa will hit the stage at 12:30pm and will be signing autographs at the Amazing Stars 3 area from 4:15 – 5:15pm on the same day.
---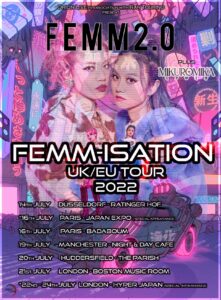 Official website: https://femms.jp/
Instagram: https://www.instagram.com/femm____/
Twitter: https://twitter.com/FEMM____
YouTube: https://bit.ly/2THLXBn
TikTok: https://vt.tiktok.com/ZSJ14XWfX/
Full dates of FEMM's live schedule is available on the J-Pop Go Events page.