Between lost and found…
Rie fu grew up influenced by a love of iconic artists such as Carole King, Joni Mitchell, Kate Bush and Karen Carpenter. That singer/songwriter aesthetic has certainly found roots in Rie's approach to composing her own music, which largely opts for a stripped-down approach utilising piano or acoustic guitar for a gentle, melodic musical style.
It's perhaps odd then that some of her most recognisable contributions have been to the world of anime. Her song 'I Wanna Go To A Place…' featured in the anime Gundam SEED Destiny and the wistful 'Life Is Like A Boat' featured as the ending theme for the popular anime series Bleach. Despite this, the Japanese musician has also pushed forth with her own musical direction, which was originally captured on Rie's eponymous debut album from 2005 (Rié also gave a live performance at one of J-Pop Go's events the same year).
Her latest release, Places represents Rie's tenth studio album, following on from 2017's Portraits. It's an intriguing title given Rie's plans to leave the UK this year after spending many years living and studying in London. There are themes peppered throughout the album that reflect on the idea of your place in the world. The likes of 'On Track' and 'The City', for instance, have a lyrical element that touches on urban living.
Opening the album, 'Ripples' has a bright and breezy quality to it with lyrical musings on life's journey ("Love is not the ending to a story told"). Meanwhile, acoustic guitar melodies bolster 'Iceland', which also lends some treatment to Rie's voice resulting in a mesmerising harmonic effect.
'On Track', which is one of the album's best moments, has a more playful approach with a more up-tempo arrangement augmented by some warm percussion. "They don't know where to place me/So I lay down my own track" suggests Rié as she navigates her own road through life. To these ears. There's a Beatles-esque quality in the song's composition (and perhaps a hint of Suzanne Vega), in both the observational lyrics and the quirky melodic delivery.
The more reflective 'Soldiers' adds in warm strings and rueful piano notes providing the foundation for a showcase of Rie's vocal range.
There's more of a pastel feel to 'Seasons', emphasised by the bird song weaved into the opening bars. As the song picks up, electronic percussion drops in taking the song in a more strident direction.
'Mirror', which originally heralded the album (see J-Pop Go feature previously) is a more contemplative reverie. It's a composition that Rié herself described as: "A powerful story with a very intriguing ending, representing the spiritual existence and reflection of people close to us."
The song is threaded with some wistful piano and string elements along with a slow, tumbling percussion, but it's the striking vocals on 'Mirror' that pulls the whole thing together on some touching lyrics ("I see the mirror reflecting me/On the vast open sky over continent, sea").
Elsewhere, the moody tones of 'Again' delivers a shrewd use of driving metaphors ("Overtaking won't take you very far/even if you change your goals"), which is apt for a song that's about commuting on the M25. But its exploration of routine and daily stress has an emotional weight to it that lingers.
On 'The City', there's a brooding, Nordic quality to the song that seems reminiscent of Susanne Sundfør (another artist who cites the likes of Carole King and Joni Mitchell as influences). Elegant piano chords drive along a narrative exploring the draw of living in a city ("I want to live inside the city/All of the noise make me feel at home") measured against the appeal of settling down in a small town. A subtle use of cello gives the song a warm, attractive element and there's a charming almost bucolic quality to the composition.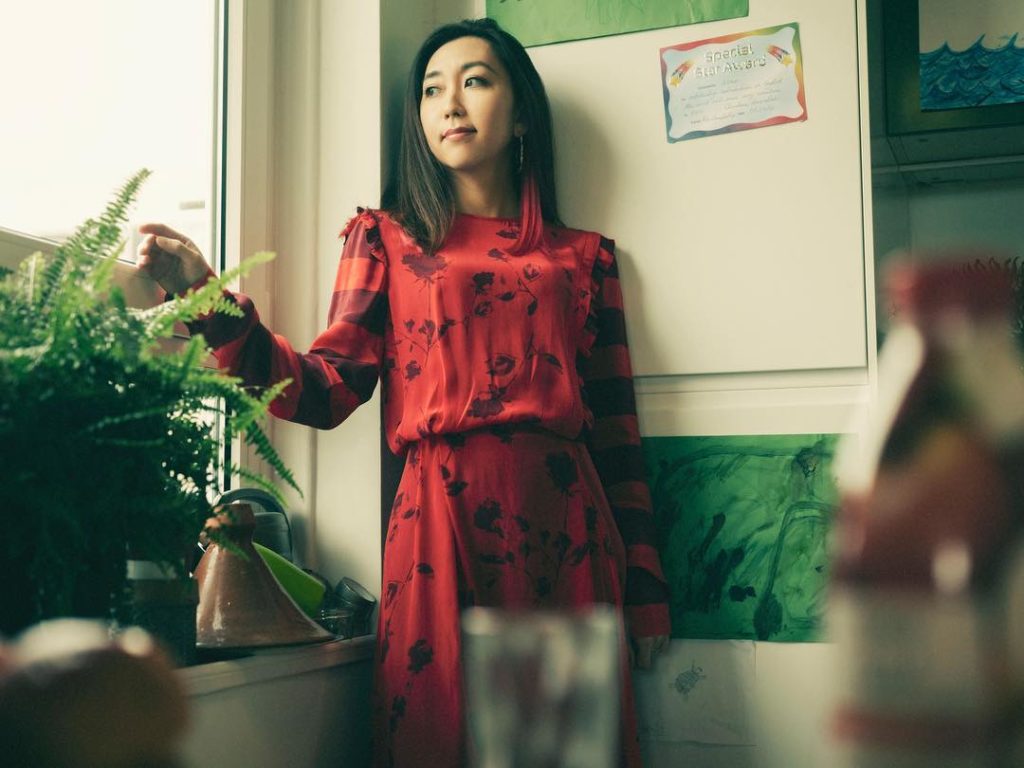 Perhaps the oddest track on the album is the sultry depths of 'Pulse', whose dreamlike qualities are whipped up by more electronic elements (odder still, the song was inspired by the sound of a dishwasher). Here, Rie's voice is washed in echo giving it a strange, siren-like dynamic.
Closing the album out, title song 'Places' makes fine use of stately piano notes. Again, it's a composition which showcases Rie's talent for a broad vocal range and there are moments here which make your hairs stand up. Lyrically, its talk of someone who "Showed me a place between lost and found" has a profound power and the song as a whole is a perfect closer.
While we can often partition Japanese music into very distinct boxes, it's occasionally refreshing to listen to the likes of Rie fu and take a moment to slow down. Places offers a pause for thought and a time for reflection which, given the turmoil of 21st Century life at the moment, is a welcome place to be.
---
Places is out now.
Rie fu will be performing at Camden Assembly on Sunday 23rd June 2019. This concert is in support of War Child UK and will also be Rie's last UK show before she leaves. Event details: https://www.facebook.com/events/574008276453087/
https://www.facebook.com/rieriemusic/

https://twitter.com/riefuofficial

http://io.riefu.com/rie/