"Music is great weapon to make people happy!"
It's June in London, although you wouldn't have guessed it by the threat of rain in the capital city. With Japan's rainy season also underway, it's perhaps fitting that today I'm catching up with Naomi Suzuki.
With a broad profile of talents, including model, presenter, actress, producer, promoter and songwriter, Naomi also sang the end theme for anime Iczelion, went on to work with talented musicians and producers including Brian Rollins (Kylie Minogue, Tina Turner, Cher), Gota Yashiki (Simply Red) and Andy Wright (David Bowie, Bon Jovi, Sinead O'Connor and Grammy Award-winning producer of Jeff Beck).
Naomi dazzled audiences at the Japan Matsuri in London's Trafalgar Square in 2012 with her J-Pop performance, but also changed gear for her work with AJ Unity – the musical duo she formed with fellow musician Philipp Moll.
More recently, Naomi has spent time back in Japan and explained a little about what she's been doing: "I did charity concert for tsunami, which I'm doing since the tsunami happened two years ago – and keep doing because I think this is important. I say hello to victims and "How are you?". This is important to me to cheer them up. Also I did a big music festival with 270,000 visitors, huge music festival, like Glastonbury".
In 2011 Japan was subject to a devastating earthquake off its Pacific coast, which resulted in powerful tsumani waves, some of which reached heights of 40 metres. The earthquake was the most powerful to have hit Japan and actually moved Honshu, Japan's main island, 2.4m east.
The tragedy resulted in over 15,000 people losing their lives, thousands of children were orphaned (an issue that Akemi Solloway's Aid For Japan project has sought to address) and left countless more injured or homeless. "A lot of rubbish is cleaned up. But I think now people are facing mental trauma" suggests Naomi, "They don't have jobs, still have some kind of support from government. Not big but just OK for living. So everything is OK, but most people having problem with nightmares or cannot forget when their family were gone in front of them or house gone in front of them. That kind of memory is really having an effect. So I think now music is very important to cheer them up. I think any music or performance or even theatre. I think that kind of thing's really helpful".
"I think the victims need continuous support. Not food or money. They want to have support from people's heart. I performed at their temporary house. When I visited there on April. Their face was very dark and sad before I performed. I asked them to sing together and they did, then their face turned very happy and bright. This is why music is great weapon to make people happy!".
"When I visit the disaster area, most of victims say 'Please don't forget us!'. They are worried to be forgotten. So I always say 'Don't worry! I am always thinking about you!!' Then they feel better. I continue to support them with my music."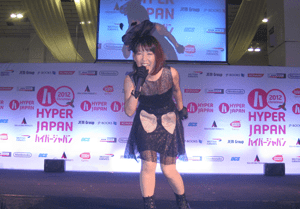 Relief efforts are still continuing today and this includes concerts designed to continue raising both funds and awareness in Japan. Despite this, Naomi suggests that it's not always easy for musicians to say yes to taking part. "They can't do a charity concert every day, but sometimes organisers are asking musicians "Oh come on this is for charity so, you know, we cannot pay so much". Musicians want to help, but it's difficult, so cannot play everyday free of charge. So we have a problem even though musicians want to help them with music, they still need money for living. But they want to support victims with music as I do. I think it would be very helpful if government deal with this matter".
Naomi herself continues to perform and assist music events for charity efforts, but she's also branched out into other areas to explore her talents. This includes a role associated with her home city of Tagawa.


Tagawa, which is based on Japan's southern island of Kyushu, has a history associated with the mining industry – and one of the city's most prominent landmarks are two tall chimneys located near Tagawa-Ita Station. "I am PR ambassador of my city" comments Naomi with enthusiasm, "Japan's mascots are very famous. Each city has a mascot they have a name like Paul-man or Naomi-man or, you know, they have their own character". In the case of Tagawa, the mascot is called Tagatan who is noticeable by his mining hat topped with the distinctive chimneys of Tagawa. "So my name is Tagatan ambassador! (laughs)".
Tagawa has also recently achieved recognition via the UNESCO Memory of the World programme due to the work of the painter Sakubei Yamamoto. As part of Japan's mining industry in the early years of the 20th Century, Sakubei also developed skills as a painter and his work illustrated the day to day events of an average coal miner. While also maintaining a series of diaries, the result was Sakubei producing a valuable historical record. This was also another reason for Naomi's position as a PR ambassador, to help spread the news of UNESCO's recognition of Sakubei's work.
Naomi's role included writing a song for Tagatan which resulted in the tango-flavoured Taga Tango, which will be used to promote the city. "Japanese people are crazy about mascots. There is a lot of mascot competition and they want to vote, vote, vote and say: 'Come on, can you vote for my town's mascot?'". So each city has different mascots they want to show off: 'My mascot is the No. 1 of Japan!'(laughs). And they have a lot of merchandising : Tagatan's cap, Tagatan's bag and everyone having something of Tagatan's merchandising! (laughs)"
One of Naomi's previous projects was singing the end theme for the 1994 anime series Iczelion. The catchy song 'YOU'RE THE BEST PARTNER!' is still a part of Naomi's live performances today – and is also popular with new audiences who might be unaware of the song's origins. Naomi explained a little about Iczelion and her involvement in it. "This is quite famous anime in Japan, because the voice actor was very famous. Of 5 voice actors they are top of anime voice-over actors. That's why Iczelion's become very big".
Regarding her contribution on the end theme, Naomi's explanation is short and to the point: "The producer just phoned me and said 'Naomi your voice is very suitable for the theme song, so can you sing it?' 'OK!'. Also I did voice-over as well for Student A! (laughs) I don't really remember what I said, I just did a small part".
On then to the topic of AJ Unity – the musical duo that Naomi created with fellow musician Philipp Moll. The good news is that plans are already underway for the next AJ Unity album with the pair ready to go into the studio. "We are going to record in the Summertime, maybe next month, start from next month, and hopefully going to release end of this year or beginning of next year".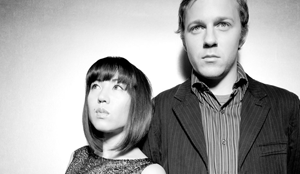 AJ Unity's 2010 album release Sweet Roses is an accomplished selection of trip hop and chilled beats. Are the duo planning to continue in that direction? "I think more up-tempo" suggests Naomi, "Last one was more like chill-out. Really smooth and kind of round sound. But we are going to do more kind of up-tempo and happy tune. But still AJ Unity's sound".
Meanwhile, Naomi herself continues to plan future solo releases. In fact, on her recent trip back to Japan a fortuitous coincidence helped to pave the way. "When I was in Japan, I met a producer who is very good friend of mine, long time friend Daishi Kataoka. He produced some of the biggest artists in Japan. One is called Hitomi Yaida. One is Kana Uemura. Top pop artists couple of years ago. I helped him when recording in the UK as a coordinator. I helped him when he came to London to do recording. I helped him as translator and coordinator and organiser and booking musicians and studios and things like that and gigs. And this time I met him by chance because my hotel in Sendai. I hadn't seen his website for 2 or 3 years but I saw his website and he said 'I'm going to play a gig tonight'. 'Where?' and he said 'Sendai' 'Where? I'm in Sendai now!' and I see the address and it's next to my hotel! (laughs) "
"I came down to see him and said 'Let's sing together'. It was really good, really touched my heart. I never heard his singing properly before because he was a producer for famous artists, so he didn't sing. I was amazed at his voice, his songs and lyrics. It was really good and I said to him, 'I am looking for a very good producer to do something in Japan and I think you're suitable' and he said 'Why not'. We plan to make 2 songs first of all and try to find a label to release it, but still it's OK – I have a label so maybe we can release it on my label. I think that's better because we can have all rights and copyrights, so we are going to do that project".


Naomi had previously released 2 singles, Mother and Our Song, which takes Naomi onto the topic of selling music. Would she consider the sales of her previous releases as successful? "Mmm still slow but still selling. I have lots of orders every day". Both releases are available via iTunes which makes things simpler for her UK fans but isn't necessarily a topic that Naomi is happy with. "iTunes is very painful, you know. It's nothing. It's really nothing. Just for the advertising. Just to show people my song is there, but no business at all because you know some pennies or…". It's a valid point that raises many questions about the viability of digital downloads, which is particularly topical given Japan's often reluctance to embrace this part of the music industry.
Finally, I ask for Naomi's thoughts on the continuing global push by Japanese artists – particularly with Kyary Pamyu Pamyu and Perfume making their UK debuts. "I think this is really good. Even though in Japan they are very famous but they didn't have a chance to come over here. I think only X Japan did – and Hotei did, but he lives here. But I'm so happy even though a few years ago big artists come over here, but nobody noticed. But now Perfume or Kyary Pamyu Pamyu, people know, even English people, other countries. That's why I can think Japanese market is going to be worldwide. Slowly, but I think developing. Which is really good news".
---
J-Pop Go extends its warmest thanks to Naomi Suzuki.
Naomi Suzuki is scheduled to take part in the forthcoming Anime Attacks event in Gateshead (alongside Beckii Cruel and J-Pop Go) on Friday 1st November 2013.


Meanwhile, both her solo and AJ Unity releases are available through several sources, including both Amazon and iTunes.
www.sweet-naomi.com
www.myspace.com/naomisuzuki
http://www.ajunity.com
Anime Attacks