UNICORN TABLE have built a career on a boisterous pop rock that has carved its way into a series of top notch anime themes including Fly Away from Jinki:Extend and a variety of tunes from School Rumble.
The creation of the band combined two talented individuals: stylish vocalist Salia, whose career included the Cutey Honey Flash theme and 'Trust' from the series Vandread. Meanwhile guitarist shin-go had brought his skills to titles such as Solty Rei
, Pumpkin Scissors and the live action version of Casshern
.
Their 2005 album uncountable
was a fine collection of their anime theme songs, but their follow-up release INTO THE FUTURE
shows a band confident enough to put out a standalone series of edgy synth-flavoured pop.
Unicorn Table were invited to make their UK debut performance at Ayacon 2011, one of the UK's largest anime conventions. Despite the band coming down with colds on the flight over, they powered on through for a great performance. J-Pop Go caught up with the band for an interview…..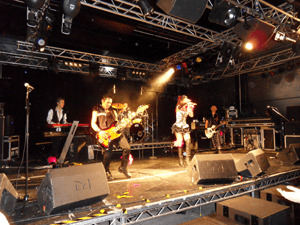 Can you tell me about the inspiration behind the band's name Unicorn Table?
shin-go: Salia was the one who suggested the name Unicorn Table. I tried to look it up in a dictionary lots and lots of times and then wondered if she'd misread 'uncountable'. But I thought it was really original, the concept so we went with that as a name for the band.
What are your thoughts on the differences between English/American audiences and Japanese audiences at concerts?
Salia: The English people are much more like the Japanese in that they're slightly shy, there's not quite as much movement, maybe because 50% of them are in cosplay! They're not overwhelming whereas in America there's a lot more power, people are basically going crazy! So I felt that the English are quite similar to the Japanese in that respect. Everyone's enjoying it and they're in to it but they're not going wild and crazy.
Can you tell me a little about the thoughts and inspirations behind the new album INTO THE FUTURE
?
shin-go: The idea behind the album is to take all the emotions and feelings we have now, put them into our work so we can take that forward into the future, so that's where the title of the album comes from. The concept of eternity is obviously in our work but there's no such thing as actual eternity, you can't have something that lasts forever except if you think about the relationships behind people. So for parent to child, love and kindness is passed on and that's kind of what we're trying to achieve – that kind of passing on. That's the theme behind it.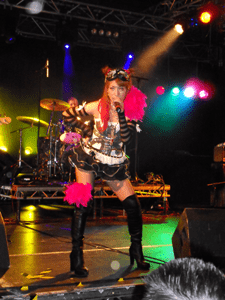 How does the songwriting process for Unicorn Table work?
shin-go: Generally it's the two of us doing the arrangements, so we would write together back and forth. So Salia might be writing a song and in order to get more inspiration or feedback she'll pass it over to me and vice versa so we create most of the song individually and then pass it over to start the process of finishing it or adding to it.
Wardrobe changes are part of your performances, do you think theatre or visual spectacle are a bigger part of bands performances in general?
Salia: I'm really into clothes and quite particular about what I wear and everyone else that wants to look cool as it were, so there's that aspect to it. Within the concert I think the performance is kind of like a movie. It's a flow we've created with the songs and so I like to insert one change in the middle, a scene change within the flow. In Japan we don't generally do costume changes.
Is there a reason why there's no costume changes for Japanese gigs?
Salia: Because the concerts are shorter – 30-40 minutes. We would like to do longer but obviously we don't have the opportunity, that's the format that they have.
How many concerts would you do in Japan over the course of a year?
Salia: We don't usually tour Japan, but we'll do 5 or 6 performances a year and a lot of those are focussed around the large anime festivals, so they have festivals in Japan where lots of VA's and parties for a specific anime will come together and we'll do some of those as well.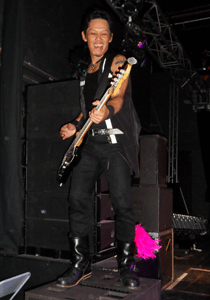 Are you used to performing at anime conventions now?
shin-go: We're used to those venues, conventions and stuff, so we're not really surprised by where we play now. But when we first played a convention we were surprised by the scale. Because there were places where you could buy things, places where you could go watch anime and places where you can read comics – all of those things in one place, the scale was rather overwhelming.
Any funny tour anecdotes?
shin-go: One time we played at a Japanese school sports festival. They have culture festivals and sports festivals and we played at a big sports festival which was also crossed with a Japanese Matsuri festival. Within those they quite often have shows for children and lots of people dressed in fur suits come out, dance around and do plays or they have hero shows where the Power Rangers will come out.
So there was a group of children waiting for one of these shows where some animals come out and do a performance, we were playing just before that and so I came out and played my guitar and the children went "Ahhhh!!!!" puts hands over ears *laughs*
Fantastic! OK, final question – what were your thoughts playing the UK for the first time?
shin-go: At first it felt a little bit strange, we were nervous, probably the audience was a little bit nervous, but as we were playing we felt that it came together, the thoughts of the audience and our thoughts, so we came to an understanding through music.
Salia: I was looking forward very much coming to the UK and performing, but obviously because I had a cold I was quite nervous and had problems with my throat and ears because of the cold and the flight and so was worried about it. But when I came out on stage and everyone went "Yeah!!!" and everyone was getting into it, I got into it and was riding on that wave of enthusiasm.
---
J-Pop Go gives grateful thanks to Unicorn Table, Austell Callwood, Carl Ritson for translation and also to the team at Ayacon 2011.
INTO THE FUTURE
is available via Amazon and iTunes.
www.unicorntable.com
www.facebook.com/unicorntable
Thanks to TofuCute for photos.