02may7:00 pm11:00 pmOtoboke Beaver, Say Sue Me + Drinking Boys & Girls Choir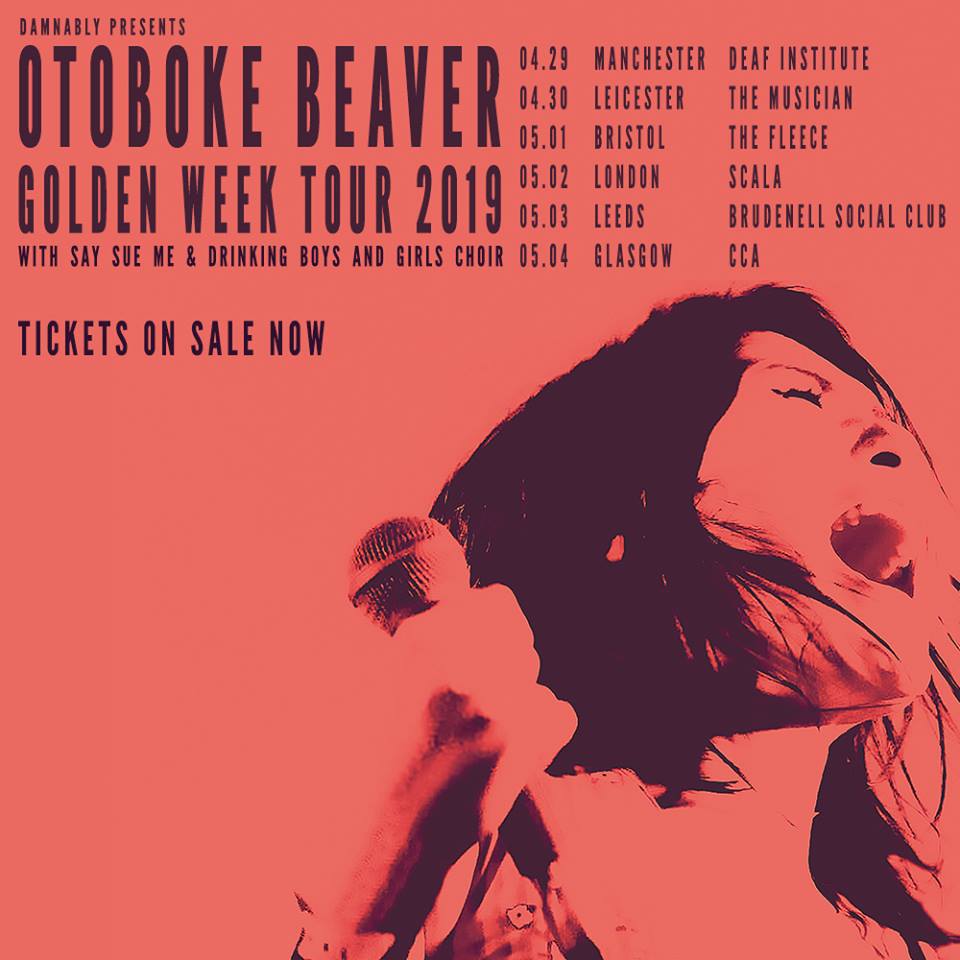 Event Details
おとぼけビ~バ~ - Otoboke Beaver
A punk-rock-garage quartet from Kyoto, Japan. The band's name is taken from a local 'Love Hotel' and they describe themselves as: "Japanese girls 'knock out or pound cake' band". Formed in 2009's summer at Kyoto University's music club, the band consists of Accorinrin (Lead Vocal & Guitar), Yoyoyoshie (Guitar & Vocals), Hiro-chan (Bass & Vocals) and Pop (Drums & Vocals).
2017 was a breakthrough year for the band with features in Pitchfork, NPR, i-D and The Fader, acclaimed SXSW & Fuji Rock Festival debuts, a sold-out 100 Club show, and their 'Love Is Short' 7" sat in the UK charts for 4 weeks. 2018 saw them travel over 24,000 miles in a week on their 'ATTYUUMA' tour which included 3 UK dates bookmarked by Coachella slots where they and X Japan were the only Japanese acts on the bill. The Cribs describe them as "Punk-as-Fuck" and many view the band as one of the great live acts.
https://www.facebook.com/Otobokebeaver22/
Say Sue Me (Busan, Korea)
Jaeyoung Ha (Bass) and Byungkyu Kim (guitar) have been friends since 5th grade. They met drummer Semin Kang and played in bands together since winter of 2012. On meeting Sumi Choi, they immediately offered her a spot as the vocalist in a new band that would become Say Sue Me. Sumi turned out to be a natural at song writing. Semin sadly suffered trauma from a fall during the making of their second album. New drummer Changwon Kim stands in while they await Semin's recovery.
Following well-anticipated showcases at SXSW in 2018, they released sophomore album Where We Were Together and a Record Store Day special covers EP It's Just A Short Walk and the 'Just Joking Around' single and Christmas EP with 2 European tours. Their blend of indie rock, dream pop and surf has been widely met with critical acclaim from the likes of Pitchfork, The Fader, Stereogum, NPR, Lauren Laverne, Gideon Coe and Tom Ravenscroft on BBC6Music, KEXP, i-D, Dazed, ELLE and many more.
https://www.facebook.com/SaySueMe1/
드링킹소년소녀합창단 – DrinkingBoys&GirlsChoir (Daegu, Korea)
DBGC are a skate-punk trio from Daegu City, Korea. Formed in 2013 when two drummers MJ and Meena shared a rehearsal space, and decided to form a band. Meena switched to Bass and guitarist Bondu (who had just finished his military service) answered their ad. They bonded over a shared love of drinking, skating and punk.
Inspired by Sum41, NOFX and Daegu's 90s-00s hardcore punk/indie-rock scene before it moved to Seoul, the band are very passionate about not moving to the capital and nurturing a sustainable local scene.
Each member writes and sings so there is a lot going on, stylistically it jumps from Pop-Punk, to melodic Hardcore, to more drawn out indie-rock. DBGC release their 18 track debut album Keep Drinking!! in January on Damnably and Electric Muse and have been announced for SXSW2019.
Time

(Thursday) 7:00 pm - 11:00 pm
Location

Scala

275 Pentonville Road Kings Cross, N1 9NL