30 years of rock goodness
It's staggering to consider that Shonen Knife are celebrating 30 years of their particular brand of punk-pop antics. For a band whose ambitions were relatively modest, Shonen Knife have come a long way – and with the release of their 18th studio album Pop Tune it's clear that they're not going to be retiring anytime soon.
Shonen Knife Trivia
Shonen Knife's name is a transliteration of Shōnen Naifu or "Boy Knife".
The band originally formed back in 1981 in Osaka with sisters Naoko and Atsuko Yamano teaming up with Michie Nakatani to create an outfit that built their sound from such diverse inspirations as The Beatles, 1960's girl groups, The Ramones and The Buzzcocks. Naoko took the role of the lead singer and guitarist with Michie providing vocals and bass. Atsuko provided backing vocals and played drums.
Shonen Knife made their live debut at a club in Osaka on 14th March 1982 and a self-pressed cassette release titled Minna Tanoshiku followed soon after. The band swiftly adopted an energetic garage pop ethic that drove a series of simple catchy songs that they toured around the live venues of the Kansai region.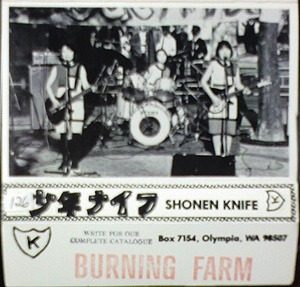 Their debut album Burning Farm was released in 1983 on Zero Records in Japan, but the West was already calling. Shonen Knife had made an impression on US label K Records founder Calvin Johnson who decided to give Burning Farm a domestic release. As an album, Burning Farm makes a lot of use of echo and sparse production and it wears its 60s influences on its sleeve, particularly on tracks such as 'Animal Song'. The tight Shonen Knife sound hadn't fully formed on this initial release, but 'Twist Barbie' was an early glimpse – as was opening track 'Miracles'. Early Shonen Knife songs also featured largely Japanese lyrics and their adoption of English lyrics on later releases would help give the trio more of an international appeal.
With the release of their 1986 album Pretty Little Baka Boy (which received both a Japanese and US release), Shonen Knife were already building a broad fanbase abroad. Sonic Youth's Thurston Moore declared himself a fan, as did Kurt Cobain (who would later invite the trio to support Nirvana in 1991).
In 1989 they performed on stage with Sonic Youth in Osaka and also started their first live shows outside of Japan. A US tribute album, Every Band Has a Shonen Knife Who Loves Them, also came out in 1989 featuring cover versions by a variety of alt-indie outfits, including L7, Sonic Youth, Lunachicks, Red Kross and Babes In Toyland.
Shonen Knife Trivia
Shonen Knife's debut live performance took place on 14th March 1982 at Studio One in Osaka. 36 people attended, paying 100 yen each to attend the gig.
By the time of Shonen Knife's support slot on the 1991 Nirvana tour, the band were getting access to a much broader audience. They also found time to record a session for John Peel's influential radio show in the UK. All this paved the way for the release of Let's Knife in 1992 which was the band's first international release on a major label.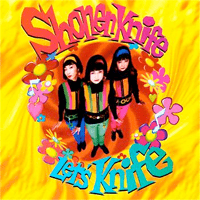 The interesting point about Let's Knife is that it's essentially a collection of earlier Shonen Knife material, but many of the songs have been re-recorded and produced in a state-of-the-art studio. So the songs comprise material dating back to Burning Farm-era Shonen Knife while dotting out a 'Greatest Hits' along the way with the likes of 'Riding On The Rocket', 'Twist Barbie', 'Flying Jelly Attack' and 'Cycling Is Fun'. But the album also adds in some equally good new material, such as the quirky fun of 'I Am A Cat'.
1992 also saw Shonen Knife arriving in the UK to perform at the Reading Festival, giving UK audiences a taste of contemporary Japanese music. Before the advent of J-Pop it has to be remembered that Japanese music at this time was still a largely unknown quantity. In fact, Japanese pop culture had still to make the impact in the West that it enjoys today (the anime and manga boom was still several years off).
The band built on these successes in 1993 by touring abroad, including supporting Nirvana again, and releasing their 6th studio album Rock Animals. Shonen Knife also took part in the Lollapalooza festival and contributed to a Carpenters tribute album which also produced one of their best-known tracks – a cover of 'Top Of The World', which also featured in an advert for Microsoft.
Their profile in their native Japan had also risen as a result of their global successes and led to their first performance at the prestigious Fuji Rock festival.
The band continued to enjoy a high profile stateside and were picked to contribute to the soundtrack of popular cartoon series The Powerpuff Girls. Their song 'Buttercup (I'm a Super Girl)' became a Shonen Knife classic and was featured on the soundtrack album Heroes & Villains (which also featured a contribution from Cornelius).
Shonen Knife Trivia
Osaka Ramones was originally to be a mini-album. But then a decision was taken to make the album full length to tie in with Shonen Knife's 30th anniversary.
1999 was a very testing time for the band which was marked by line-up changes. Michie had decided to leave the band. Meanwhile, Atsuko moved from drums to bass to replace Michie. As a result, Shonen Knife relied on part-time drummers for their subsequent live shows, particularly Mana "China" Nishiura. Tragedy struck in 2005 however when Mana died in a traffic accident while touring the US with DMBQ. A tribute concert for Mana was staged in the spring of 2006 at which both Shonen Knife and DMBQ performed. Etsuko Nakanishi had performed as drummer for Shonen Knife on their live shows and in 2006 she became a full-time member.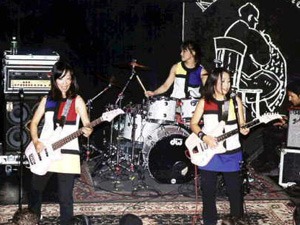 Shonen Knife celebrated their 25th Anniversary in 2006 which also saw the release of their first live album Live In Osaka. A special Shonen Knife tribute album by Japanese artists also emerged the same year. The band also wrote a song about Kurt Cobain (who had passed away In 1994) called 'Like A Salmon' for a compilation release. Atsuko, meanwhile, reduced her role in the band to a part time basis as she had married and relocated to Los Angeles.
2007 saw Shonen Knife touring America and in 2008 they signed to US-based label Good Charamel and released their new album Super Group. Touring bass player Ritsuko Taneda also became a full time member of the band the same year. Super Group has some fine Shone Knife moments, included the zippy title track and also the wonderfully charming 'Deer Biscuits'. But the album showed the trio adopting a much harder sound on tracks such as 'Muddy Bubbles Hell'.
Shonen Knife also joined forces with UK-based promoter and record label Damnably and embarked on an extensive UK tour in 2009. The band were also the choice of Simpsons' creator Matt Groening to perform at the All Tomorrow's Parties festival event which he curated.
Another line-up change arrived in 2010 when Etsuko announced that she was leaving the band and new recruit Emi Morimoto (who had previously performed with the likes of Ni Hao! And NASCA CAR) became Shonen Knife's new drummer.
2011 was a busy year for Shonen Knife, as well as celebrating the 30th Anniversary of their formation in 2011, they released new album Free Time which featured the blistering pop-rock perfection of 'Perfect Freedom', but also showed the band could switch gear with the wistful 'An Old Stationery Shop'.
The same year saw the release of their Ramones tribute album Osaka Ramones. The album featured a selection of Ramones favourites including 'Sheena Is A Punk Rocker', 'The KKK Took My Baby Away' and 'Blitzkrieg Pop' – all done in the typical Shonen Knife style.
With the release of Pop Tune it's clear that the Shonen Knife story isn't over yet and the trio are going to continue delivering their own particular brand of pop-rock goodness for some time to come.
---
Pop Tune is available from Amazon
and also via iTunes.
---