16nov7:00 pm11:00 pmWACK IN THE UK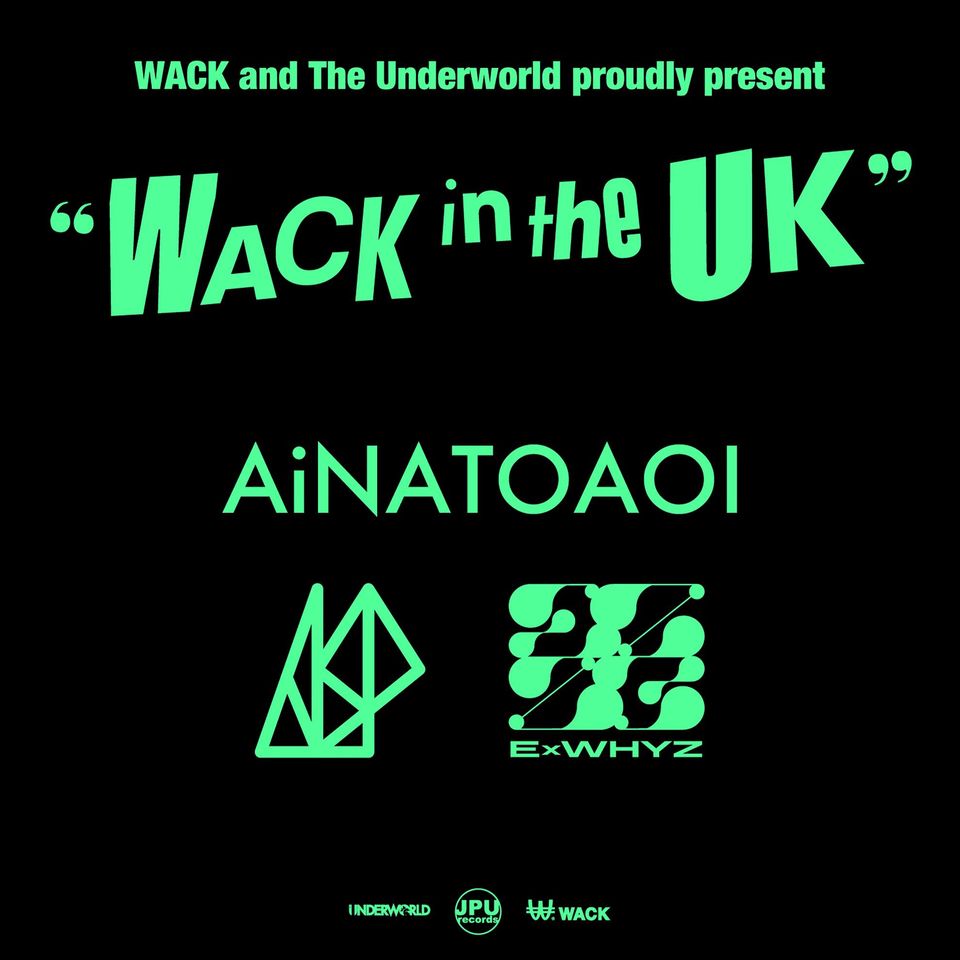 Event Details

Japan's notorious WACK agency makes their overseas debut! AiNA THE END, one of BiSH's most popular members, will be appearing at "WACK in the UK" as part of a very special unit for this show, called AiNATOAOI featuring dancer AOI YAMADA, who closed the 2020 Olympic Games in Tokyo. They'll be joined by groups ASP and ExWHYZ for this very special overseas show.

WACK rose to notoriety with BiS, dubbed "the most hated girl group in Japan" by VICE, who disbanded in 2014 (at a show with unlimited McDonald's buffet), not before causing all kinds of havoc in the media with extreme music videos and outrageous magazine photoshoots. Since then, WACK continues to produce nonconventional stars who dominate pop and rock spaces, including BiSH (Brand-new idol SHIT) who called themselves in an interview with Billboard a "punk band with no instruments" and who have a song written by Taka (ONE OK ROCK), MEG (MEGMETAL) and KENTA (WANIMA), their first to be produced by third parties.

ASP
This seven-strong group of troublemakers exploded on the Tokyo scene with their debut album ANAL SEX PENiS in 2021. At first the members refused to show their faces and hid behind masks until each one passed 20,000 followers on Twitter. Since then their videos have received over three million views on YouTube, including tracks such as 'BOLLOCKS', 'A Song of Punk' and latest single 'I HATE U'. The group's initials officially stand for "ANTi SOCiETY PUNKS" but many fans believe the group is really named after the title of their first album.

ExWHYZ
2023 saw the group headline the legendary Nippon Budokan with their show "ExWHYZ LIVE at BUDOKAN the FIRST STEP", shortly followed by a 20-date domestic headline tour. ExWHYZ features members formerly of the WACK group EMPiRE and the group's current YouTube channel has more than 38 million views. New EP HOW HIGH? Is due for release in October from Japanese major label avex. Latest music video 'NOT SORRY' has had close to quarter-of-a-million views in two week and sees the group summon a UFO to help them fix an accidental death-ray incident. ExWHYZ's sound is created by such talented domestic creators as Shinichi Osawa (MONDO GROSSO) and Seiho, as well as overseas creators such as Denny White, the singer and melody composer of Fedde Le Grand's hit song 'Cinematic' are in charge of sound design.

AiNATOAOI
AiNATOAOI is a special unit you will make their first appearance in London especially for WACK in the UK. It features the phenomenally successful AiNA THE END and AOI YAMADA, both dominating their creative spheres. AiNA THE END started as a member of BiSH in 2015, followed by launching her solo career in 2021 which has seen her feature on tracks with the likes of guitar legend HOTEI (best known internationally for his music featured in Kill Bill), MONDO GROSSO (the music video for their song 'False Sympathy' has 6.8 million views on YouTube) and TeddyLoid. She has also starred in the main role in "Broadway Musical Janis: A Night with Janis Joplin" when Randy Johnson's production hit Japan for the first time this summer. AiNA THE END also plays the lead role in upcoming movie Kyrie no Uta, out in October in Japan from director Shunji Iwai.

The other half of the unit is AOI YAMADA, who has been described by Vogue as "the avant-garde dancer the world can't get enough of". She has worked with Stella McCartney and modelled for the likes of Gucci and Fred Perry, while her performances have seen her dance solo at the closing ceremony of the 2020 Olympic Games in Tokyo, and feature in Wim Wenders' film Perfect Days.
Time

(Thursday) 7:00 pm - 11:00 pm
Location

Camden Underworld

174 Camden High St