11apr8:00 pm11:00 pmPSYDOLL - London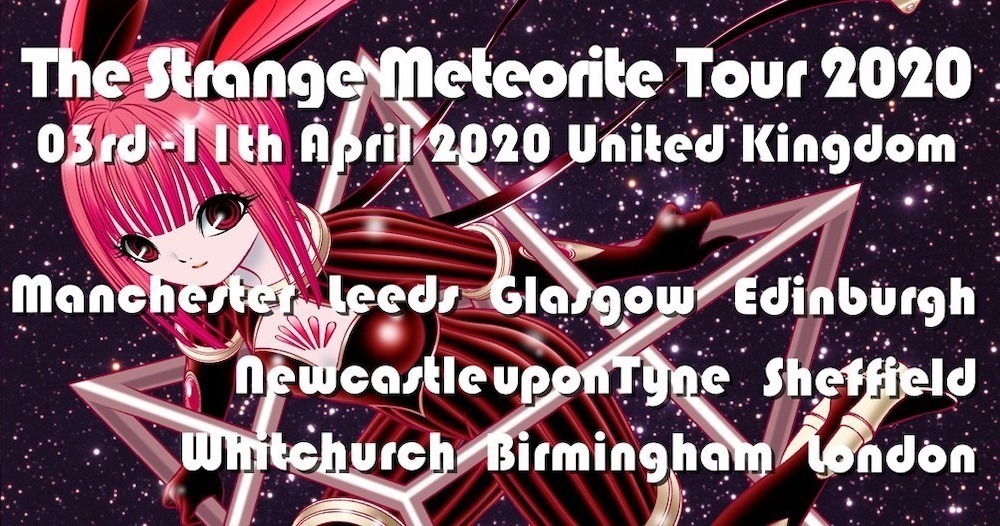 Event Details
PSYDOLL The Strange Meteorite Tour 2020
PSYDOLL
Japanese Cyberpunk/Industrial Metal/Postpunk outfit PSYDOLL hail from Shinjuku and sport themselves as "the newest in Japanese robotics technology" made from iron, plastic and PVC.
Consisting of Nekoi (vocal,keyboard,songs) and Ucchi (guitar,arrangements,computer works), PSYDOLL offer themselves as a band that make "destructive, sweet sounds" and have been described as "J-Pop for the Nine Inch Nails generation."
Their newest EP Machine Cup is available now.
http://www.psydoll.com/index_en2.html
https://www.facebook.com/Psyber.Psydoll/
Kadeadkas
Psychedelic/Post-Punk/Rock on Young & Cold Records from Köln [Germany]
https://www.facebook.com/KADEADKAS/?ref=br_rs
1919
1919 were formed in late 1980 Bradford, UK, and were one of the band's championed by Legendary Dj John Peel as early contributor to the emerging Gothic Rock genre.
Having returned more than 30 years after disbanding with 2016's Death Note EP, Mark Tighe and Mick Reed, the band's original core members, had enlisted bassist Karl Donner and a new vocalist Rio Goldhammer. The result was their second album Bloodline, which was the long awaited follow-up to 1983's Machine LP. However the new record's release in 2017 would come under tragic circumstances, hitting the shelves shortly after losing guitarist Tighe to cancer in January of that year.The band's third studio album, Futurecide charts the journey of 1919 through this fraught and turbulent period: suffering tragedy, coping with loss, and eventually finding a cautious optimism.
https://www.facebook.com/1919official/
Angelbomb
London band started in the late 90s and reformed a couple of times. Punky, Industrial with dance beats. Currently working on their album.
https://www.facebook.com/angelbombmusic/
Plus DJ Richey Ricochet (Phantasmagoria / Angelbomb / Future Daughters)
Entry £9 + 90p with WeGotTickets -https://www.wegottickets.com/event/496243
or £12 on the door
£8 concessions
***Please note that Electrowerkz has had a "No ID NO Entry" condition added to their licence, so all customers, regardless of age, must present Photo ID to be scanned upon arrival. Acceptable forms of ID are: original (no copies) passport, driving licence, national ID, Validate cards (available to order on line within 24 hours) and citizen cards ***
Time

(Saturday) 8:00 pm - 11:00 pm
Location

Electrowerkz

1st Floor, 7 Torrens St, The Angel, EC1V 1NQ