26jun6:30 pm11:00 pmHasiken x Hidè Takemoto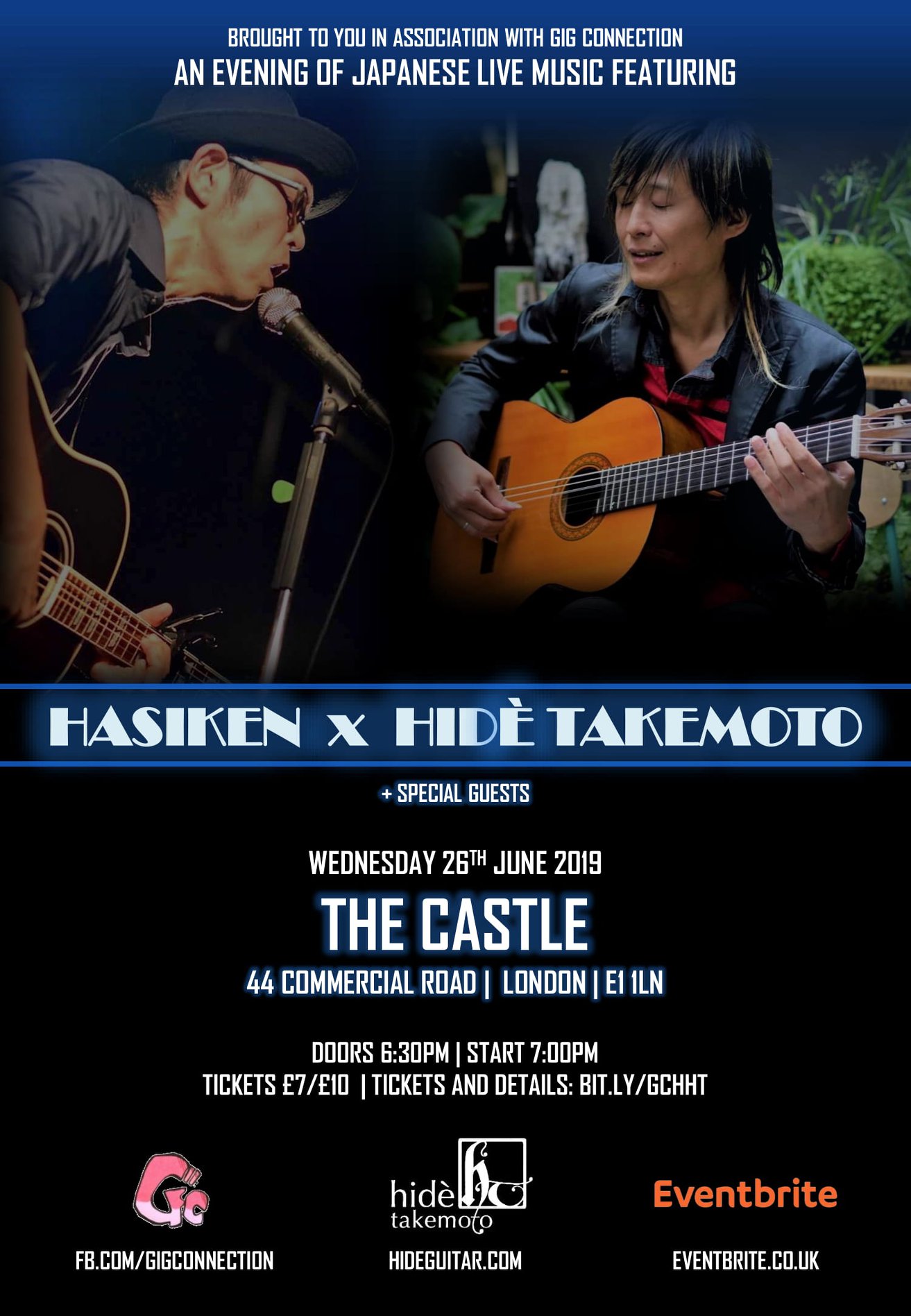 Event Details

Brought to you in association with Gig Connection: Hasiken x Hidè & the Gig Connections at The Castle

Tickets: £7 (+ fees) / £10 on the door
Hasiken, singer-songwriter, composer
Born in 1968 in Saitama, Japan. Hasiken is influenced by rock, pop, Shima-uta (traditional Okinawan folk music), Rinsyo Kadekaru (Okinawan traditional singer) and The Beatles.
Since 1993 when he studied Shima-uta from Masao Teruya (Okinawan traditional singer), Hasiken has dedicated many of his work for Okinawa & Amami's culture, people and nature and has been a tourism ambassador of Amami, Okinawa.
His composition, "STILL THE WATER (Futatsume no Mado)" directed by Naomi Kawase was nominated for Cannes Film Festival 2014 (composition category) and was released in about 20 countries in the world.
Hasiken's Official Website:
http://www.hasiken.com
<ハシケン・プロフィール>
『ハシケンの歌を聴くと、思うのだ。
人生とは、世界とは、なんて豊かなのかと。』
川口美保(編集者/ライター)
95年デビュー。ソロ、ドラム伊藤大地・ベース上地gacha一也との『ハシケントリオ』、
バイオリン磯部舞子【ベチコ】とのデュオの3スタイルで作品制作やライヴ活動中。
2016年に沖縄で全編再録音したベスト盤『うた』(Music from Okinawa)は
ハシケンの真骨頂とも言えるソロで一発録音され、躍動感と臨場感を詰め込んだ
素晴らしい作品に仕上がり大好評を得ている。
河瀬直美監督作品『2つ目の窓』、『朱花の月』(どちらもカンヌ国際映画祭ノミネート)。
若松孝二監督作品『千年の愉楽』の映画音楽も手がけるたぐいまれなシンガーソングライター。
ハシケン公式HP:
http://www.hasiken.com
---
Hidè Takemoto, guitarist / composer
Hidè Takemoto graduated from the prestigious Guildhall School of Music as a Bachelor of Music, Postgraduate Diplomas in Music Performance and Composition in 2006 and started performing in the U.K., Europe and Japan.
Inspired by his guru, the great virtuoso and composer Keigo Fujii, Hidè's guitar technique can be traced back via José Luis Gonzaléz, Andrés Segovia, Miguel Llobet to the great Francisco Tárrega.
Hidè's wide influences come from classical, rock, Indian, Spanish, Celtic and Japanese music, allowing him to collaborate many musicians including Kuma Harada, rie fu, Hibiki Ichikawa and many more.
Followed by his debut CD "FOUR SPRINGS", Hidè is performing with many gigs, festivals and acquiring international recognition.
Hidè's Official Website:
www.hideguitar.com
<武本英之・プロフィール>
ロンドンを拠点に活動するギタリスト、作曲家。
15歳からエレキギターを始め、19歳の頃からクラッシックギターを藤井敬吾氏に師事。1999年から名門、ギルドホール音楽院で学び、奨学金を得てバチュラー(楽士)、演奏家ディプロマ、作曲家ディプロマを取得。
音楽的バックグラウンドはクラシック音楽の枠を超え、インド、スペイン、ケルト、日本の伝統音楽、ポップ、ロック、ヘヴィ・メタルと幅広く、クラシックギターの新しい可能性を追求し続けている。
2017年に読売テレビ「グッと!地球便」に紹介される他、Monocle Radioや多数のメディアに取り上げられる。
作品に津軽三味線とのコラボCD『FOUR SPRINGS』の他、自身のギターからオーケストラ作品まで多数の委嘱作品、オリジナル、編曲がある。
武本英之公式HP:
www.hideguitar.com
Time

(Wednesday) 6:30 pm - 11:00 pm
Location

The Castle

44 Commercial Rd, E1 1LN