PERFUME offer an insight into the inner workings of J-pop's finest in a new documentary…
London was fortunate enough to have the opportunity of a screening of the new Perfume documentary WE ARE Perfume -WORLD TOUR 3rd DOCUMENT this month. J-Pop Go was there to take in the action and report back [please bear in mind that this review will feature spoilers for those still yet to view the documentary].
The Rich Mix cinema is, of course, no stranger to screening events such as this having featured Hatsune Miku and Vamps concert screenings in the past. For the Perfume documentary the cinema had a capacity crowd of eager J-pop fans keen to get a peak at the inner workings of Perfume.
As a bonus, a special merchandise stall selling T-shirts, stickers and plastic folder were available at the venue. These were limited edition items strictly for the documentary screening and unavailable elsewhere. Not surprisingly they sold out of everything by the end of the viewing.
As a documentary, this film was culled from over 500 hours of footage mostly filmed during Perfume's WORLD TOUR 3rd taking in Tapei, Singapore, America and London. Anyone expecting TVs being thrown from hotel rooms, or a-chan throwing a monkey wrench at the staff for not getting the pink M&Ms backstage on time, may be disappointed in this documentary. However, what it does offer is a series of stories that help to paint a larger canvas of what Perfume are all about.
Interspersed throughout the film are spot interviews with a-chan, KASHIYUKA and NOCCHi giving insight into their personal thoughts on what Perfume means to them. These moments offer up touching reflective moments which helps viewers gain some perspective on what success means for three people celebrating their 15th Anniversary as a group. A notable omission from the documentary perhaps is Yasutaka Nakata, whose insight into the music composition would have given the film a little more balance.
The film opens on Perfume's visually stunning appearance at SXSW which helps to set the scene, before rolling back 5 months prior as the group and their team plot out their global tour plans. It's these behind-the-scenes moments that pull the shades back on the processes behind staging a typical Perfume performance.
For instance, anyone curious about the methods behind the choice of tunes for the setlist will be enlightened by the fact that some songs were added to future shows based on the reactions of fans (which is how 'Nee' got added to the schedule). At the same time, WE ARE Perfume has footage of the trio discussing the song choices and staging with MIKIKO, the rarely seen choreographic mastermind behind Perfume.
Perfume's challenges in performing for a global audience are also explored in conversations on songs such as 'Spending All My Time' – pushed by the girls as a contender as global audiences will understand the lyrics, but frustrated by it being too short in its current incarnation. This prompts the discussion about the best songs a non-domestic audience would go for. Although they have global ambitions, at times Perfume appear genuinely surprised by the fact that die-hard fans exist in the rest of the world and are keen to cater for each select audience.
Meanwhile, viewers get a chance to see personal moments such as Perfume's trademark warm-up routine before any gig. There's also something very compelling about seeing the trio in the brief moments before they step onto the stage. There's nerves and anxiety, but also an energy and enthusiasm that's the accumulation of months of rehearsals and discussions.
Perfume's experiences in America have also been coloured by their original 2011 visit as special guests to the premiere of Cars 2 – the film that featured 'Polyrhythm'. In fact it was this achievement that sparked the idea of taking the Perfume brand global to begin with. Not surprisingly, 'Polyrhythm' is slotted into the setlist as the closer for their LA performance.
Perfume fans should also prepare themselves for some tears in this documentary as there's quite a few emotional moments. A brief failure of the LED elements at the LA gig results in MIKIKO 'having a moment' – which in turn starts off the waterworks in the Perfume members. As a viewer, you'll be dabbing your eyes with the Kleenex yourself before you remember that everyone's crying about a set of lights…
Some mysteries are unveiled, including the secret of how Perfume can switch out their outfits so damn fast. Meanwhile, anyone puzzled by NOCCHi's notable cock-up on stage in London will be treated to an amusing post mortem backstage in which the trio discuss what happened.
What comes across in the documentary as a whole, however, is the dedication and enthusiasm that a-chan, KASHIYUKA and NOCCHi put into Perfume. There's a genuine desire to put on the best performance and to avoid disappointing their fans. The message that comes across as the strains of 'STAR TRAIN' close the film is that "Music is everything" and we can't argue with that.
---
Thanks to Lika Toriumi.
http://www.perfume-global.com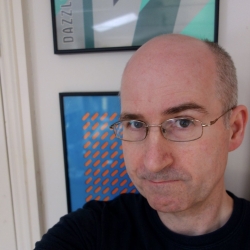 J-Pop Go founder Paul Browne has written on topics including anime, manga and music for a broad range of outlets including Electronic Sound,Anime Limited, Manga Entertainment, Japan Matsuri Wavegirl, the Electricity Club and Otaku News.