Metal mayhem returns…
With the release of yet another new tune in the form of 'PA PA YA!!', it seems appropriate to check in on what's happening with everyone's favourite metal maids Babymetal. With a Glastonbury appearance booked in – and a headline show in London next week – it looks like they're going to be a rich topic of discussion for UK audiences.
Despite the meteoric rise of Babymetal from their humble origins as a Sakura Gakuin sub-unit, recent years have seen the idol metal outfit having to deal with some tough blows. This included the sad passing of kami band guitarist Mikio Fujioka at the start of 2019.
But prior to that, in 2018, Babymetal were rocked by the departure of Yuimetal. Having been absent from many of the band's performances in early 2018, the band later issued an official statement of her departure from the group. This coincided with the release of 'Starlight' in October that year (which was seen as a tribute of sorts to Mikio Fujioka). 'Starlight' had followed on from 'Distortion' (see J-Pop Go review previously) which served as Babymetal's first post-Metal Resistance single release.
Now running as a duo consisting of Su-metal and Moametal, Babymetal returned in May this year with 'Elevator Girl'. As a song, it presented a serviceable slice of idol pop combined with some rock elements, although to these ears it lacked the impact of the more powerful 'Distortion'.
But 'PA PA YA!!' Seems to have returned Babymetal to the stirring dynamism of their earlier outings. Its bonkers screeching synth sounds and speedy guitars are matched with classic melodic lifts on the vocals. It's a powerhouse of a composition – and is likely to sound even better in a live setting.
'PA PA YA!!' also features a collaboration with Thai rapper Fucking Hero (yes, that's his actual moniker) who contributes a suitably fast-paced rap segment to the new outing. It's a muscular, growling delivery that somehow seems in-step with the rest of the tune, although this hasn't prevented some Babymetal fans from expressing their ire.
While it's fair to say that not everyone is going to like every song that Babymetal put out, some of the criticisms seem to imply that weaving rap into a tune isn't what Babymetal is all about. This is despite that fact that Babymetal's whole concept is literally welding two complete separate music genres together.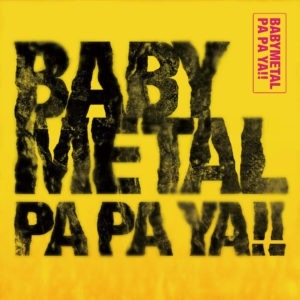 Oddly enough, some of the commentary online appears to focus on Moametal on the basis that F Hero's contributions eclipse her own (which seems to be more of a pop at Moa than anyone else). Some of the gripes also divert back to the departure of Yuimetal – a classic issue whenever a band member departs any group.
Babymetal have had to deal with an odd conundrum which doesn't affect the parent group they're long since distanced from – and one which is part and parcel of idol groups. That issue is graduation of a group's various members, when someone leaves and is usually replaced by a brand new member.
Graduation is a strange concept for a western audience – and Babymetal's cross-genre appeal has inevitably won them a significant fanbase here in the UK and America (which is why they get chosen to perform at the likes of Glasto). On that basis, audiences identify Babymetal with its three original members. The result of this has made a subset of Babymetal fans sound like Depeche Mode fans endlessly moaning about when Alan Wilder is going to rejoin the band…
Adding to that debate is the fact that Babymetal's most recent concert at Yokohama Arena featured three members on stage, part of a plan to have a rotating series of third members of the group. At the moment, that list includes Riho Sayashi (Hello!Project, Morning Musume), who shares some history with Su-metal, having also been a member of ASH (Actor's School Hiroshima). The second is Kano Fujihira, who is the current Sakura Gakuin president. The third remains to be revealed.
The argument over 'PA PA YA!!' will no doubt continue, although judging by the majority of comments emerging online, fans are giving it the thumbs up. Certainly from our point of view, it represents the dynamic qualities of classic Babymetal.
Meanwhile, details of the new album are emerging which is due for release in October. Metal Galaxy will be Babymetal's third studio album following on from 2016's Metal Resistance (see J-Pop Go review previously).
---
'PA PA YA!!' is out now. https://tf.lnk.to/PAPAYA
Babymetal are performing at Glastonbury this weekend and London on Tuesday 2nd July. https://www.facebook.com/events/2318514848406688/